Aerial lifts in New York
Versalift Aerial Lifts Support Key Industries in New York
Aerial lifts stay very active in New York, playing an important role in keeping the lights on, the heat running, the data flowing and the traffic moving. New York is one of the most populous states in the USA, and so its residents enjoy the benefit of several options for how they receive electric power and from whom they get their broadband service. Aerial lifts are ubiquitous in New York – they can be seen alongside roadways and highways, with technicians working at the platform on elevated power and data systems. Aerial lifts are commonly used by municipal and state fleets to maintain roadway lighting, signage and traffic signals. Also, forestry and logging efforts across the state of New York are supported by specially equipped vehicle-mounted aerial lifts. Aerial lifts in New York play a crucial role in making modern life possible in several ways, but keeping the lights on, the information moving and the roadways maintained and well-lit are three of the most important ways.
Distributors for New York
Electric Power and Utility Industry in New York
Aerial lifts that support electric utility infrastructure are built by Versalift to operate safely and reliably in any climate or environment. New York state features some of the most dense urban environments in the country, and it also has millions of acres of forested land.  A full third of the electric power generated in New York is energy derives from nuclear power plants. New York is aggressively pushing toward renewable sources of energy, and is on track to generate 50% of their energy from renewable sources. Currently, hydroelectric energy is a major contributor to the state's ambitions. No matter the source of power, aerial lifts support the power distribution networks that bring electricity to homes and businesses in New York
Below is a short list of some organizations that provide electric power to consumers in New York:
View Lifts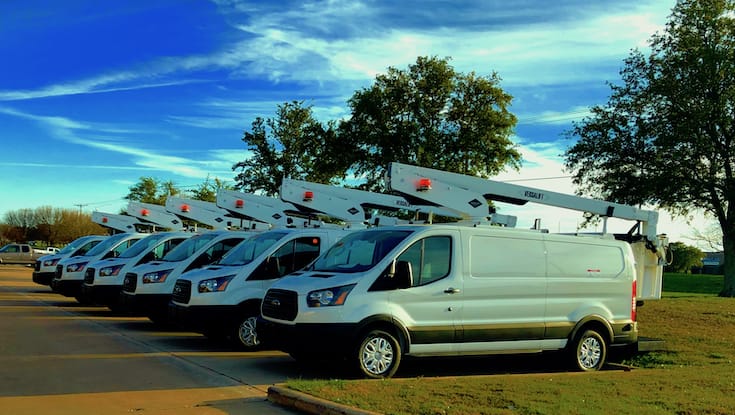 Telecommunications Construction & Maintenance in New York
Aerial lifts are utilized by telecommunications fleets in New York to provide service to homes and business customers. There are more than 200 internet providers in New York, giving New Yorkers plenty of choice. Vehicle-mounted aerial lifts are often favored by cable TV providers when they are mounted onto sprinter vans. The combination of a large working envelope and plenty of enclosed storage for equipment, merchandise and tools is ideal for telecommunications field work.

Versalift van-mounted aerial lifts

deliver the lightest weight vehicles with the greatest payload in their peer group, while providing a 29' working height to ensure that technicians can reach their work.

Below is a short list of some telecommunications providers in New York: 
View Lifts
Aerial Lifts and their applications for Forestry in New York
Aerial lifts support organizations in the forest products industry, across New York state. New York forests cover 63% of the state, which amounts to over 18 million acres. New York state's forests are largely owned by individuals and families, and there are more than 2.6 million acres in the Adirondack Mountains. The New York Department of Environmental Conservation is responsible for maintaining the state's forests and educating the public on conservation practices.  The timber, logging and forest products industries employ more than 60,000 people, which brings $4.6 billion into the New York state economy every year.
Get more information on Versalift Forestry equipment.
Aerial lifts for Bridge Inspection in New York
Aerial lifts for bridge inspection play a critical role in New York public safety. New York has more than 17,000 highway bridges. Approximately half are owned by the state and the other half by municipalities. Every bridge in New York must be inspected every twenty-four months, which means that bridge inspection engineers and contractors who are licensed for bridge inspection in New York stay very busy.
The very busy Brooklyn Bridge is the oldest suspension bridge in the state. Some people say it offers the best views of New York City. There are over two thousand bridges in New York City. Some of world's most celebrated bridges in New York City are the Brooklyn Bridge, the Manhattan Bridge, Williamsburg Bridge, the Bow Bridge and the George Washington Bridge.
North America's leader in bridge inspection equipment can be found at https://aspenaerials.com.
New York General Information
With a Population of nearly twenty million people, New York State is the third most populous state in the country. While Albany is the state capital of New York, New York City is it's largest and most famous place. New York City is the epicenter of the American financial system, home to multiple storied universities and many of the world's largest companies, banks and other organizations. New York City's metropolitan area includes surrounding communities and amounts to nearly 24 million people. Rochester and Buffalo are both major cities in Western New York. Rochester is home to Xerox, Western Union, Kodak and Bausch & Lomb, and is the third largest city in the state. Buffalo is New York's second largest city. Home to major sports franchises, universities and companies like General Motors and Time Warner, Tesla has built a factory in Buffalo. New York has some of the world's most iconic attractions, including Niagara Falls, the Statue of Liberty, Empire State Park and Central Park.
New York Aerial Lift Safety
New York Aerial Lift Safety is highly visible due to population density and the number of roads in the state. All safety codes are strictly enforced throughout the state, and are written to be in alignment with the United States Department of Labor's OSHA regulations on Aerial Lift Safety.
You can find the OSHA Aerial lift factsheet here.