Aerial lifts in Vermont
Versalift Aerial Lifts Support Key Industries in Vermont
Aerial lifts in Vermont are extremely important to families and business owners, as aerial lifts support the blow of data and electricity through overhead networks of cable. Vermont roadways and highways are often lined with overhead cables, and so it is common to spot a vehicle-mounted aerial lift parked on the side of the road. Forestry and vegetation management are important businesses in Vermont, which was once clear-cut for dairy production, but which is now largely covered in forests. Aerial lifts that are outfitted for forestry applications stay busy in the state. Aerial lifts are also used to maintain visible signage and roadway lighting and perform traffic signal maintenance. This is because municipal and state fleets are responsible for maintaining safe roadways. Versalift aerial lifts are perfectly suited to managing traffic and lighting systems without limiting traffic because they are maneuverable and lightweight, with a working envelope that allows technicians to avoid impeding traffic.
Electric Power and Utility Industry in Vermont
Aerial lifts support the electric power and utility providers that operate in Vermont. Vermont does not generate very much electricity by itself. In fact, though the state uses four times more energy than it produces, it has the lowest electric power consumption rate in the United States. Hydropower, which is a renewable resource,  was Vermont's only significant source of electricity generation in 2018.
Vermont has a goal to get 90% of all utilized energy from renewable resources by 2050. Vehicle mounted aerial lifts for the electric utility industry require insulation systems to protect linemen at the platform. Versalift insulated aerial lifts feature TruGuard®, the world's most advanced bucket truck safety system, which provides an additional layer of protection at the platform.
Below is a short list of some organizations that provide electric power to consumers in Vermont:
View Lifts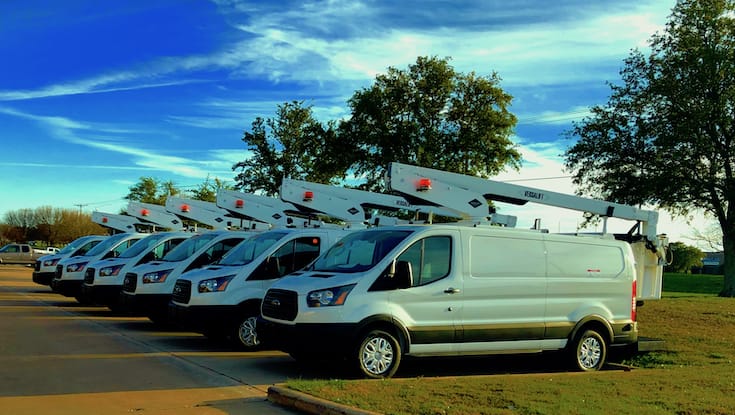 Telecommunications Construction & Maintenance in Vermont
Aerial lifts that support telecommunications firms in Vermont are a very common site in Vermont, where 97% of residents in the state have access to a broadband internet connection. Despite being a rural New England state, Vermont is highly connected, with 99% of the state's population able to access wireless internet service. Vermonters have some choice of broadband internet provider – there are dozens of servicers in the relatively small state. Vehicle mounted aerial lifts that are purposed for the telecommunications and cable TV industries are used for multiple purposes. They must be able to store a large amount of merchandise, tools and equipment, while being able to safely convey technicians to their elevated workplace.
Below is a short list of some telecommunications providers in Vermont: 
View Lifts
Aerial Lifts and their applications for Forestry in Vermont
Aerial lifts support the work of logging and forest products in Vermont. The state itself is forested across 75% of its land. This area amounts to approximately 4.5 million acres of forest. Of this area, 80% of Vermont's forestland is owned privately. The state's forest based economy, which includes forest-related recreation and timber production, creates $1.5 billion per year in revenue. The Vermont Natural Resources Council meets with private landowners regularly to develop long term stewardship plans and adopt sustainable practices. Protecting biological diversity in wild places has been a very important cause to Vermonters.
Get more information on Versalift Forestry equipment.
Aerial lifts for Bridge Inspection in Vermont
Aerial lifts for bridge inspection play an important role in Vermont's public safety. Bridge inspection is typically handled by bridge engineering firms and by contractors who are licensed for bridge inspection in Vermont. The Federal Department of Transportation requires that every state submit a report on the condition of its bridges, and so Vermont must make sure that every bridge that is longer than 20' and bears vehicular traffic. Vermont has more than one hundred covered bridges, with the oldest dating as far back as 1820. The Quechee Gorge Bridge, built in 1922 in the village of Hartford, is Vermont's oldest surviving steel arch bridge. It sits high up, at 163 feet, and is 285 feet long, on the Ottauquechee River.
North America's leader in bridge inspection equipment can be found at https://aspenaerials.com.
Vermont General Information
With a Population of approximately 650,000 people, Vermont is a small state in New England. The state capital is Montpelier and two of the biggest cities in the state are Burlington and Stowe.
Vermont's geography is dominated by the forested Green Mountains, and the state has more than 200 appalachian mountain peaks within its borders. Tourist attractions to the Green Mountain State include visiting Lake Champlain, the Ben and Jerry's Factory and the Shelburne Museum. Forested state parks in Vermont draw millions of visitors each summer and include Half Moon Pond State Park, Mt. Philo State Park and Kingsland Bay State Park.
Notes on Aerial Lift Safety from the United States Department of Labor
Vermont Aerial Lift Safety
Vermont Aerial Lift Safety is highly visible due to population density and the number of roads in the state. All safety codes are strictly enforced throughout the state, and are written to be in alignment with the United States Department of Labor's OSHA regulations on Aerial Lift Safety.
You can find the OSHA Aerial lift factsheet here.