FORESTRY BUCKET TRUCKS FOR THE TREE CARE AND VEGETATION MANAGEMENT INDUSTRIES
Forestry bucket trucks by Versalift create the best value for private and government customers that are responsible for tree care and vegetation management.
FORESTRY BUCKET TRUCK INNOVATION FOR TREE CARE APPLICATIONS
Forestry bucket trucks play a central role in organizations that maintain and service the paths that telecommunications and power cabling follow. Trees and other plant-based obstructions must be pruned or removed in order to protect the physical plant. At Versalift, forestry bucket trucks are built specifically for use in tree care and vegetation management applications, meeting the specs and needs of the largest infrastructure and public service fleets in the world.
Forestry bucket trucks built by Versalift are the safest and most durable tree care and vegetation management aerial lifts on the market, featuring a huge set of options and upfits for our valued customers.
Working Height
56' 10' - 75' 10"
Height to Bottom of Platform
52' 10" - 70' 10"
Stowed Travel Height
10' 7" - 12' 9"
Platform Capacity
350 - 450 lbs 450 lbs
Insulated or Non-insulated
Insulated
Explore Your Options
DEMAND VERSALIFT
Forestry bucket trucks – Versalift Overcenter – Innovative, Reliable and Safe
Forestry bucket trucks that are built by Versalift to serve the vegetation management and tree care industries are durable and highly innovative. For example, some models in our VO line feature industry leading horizontal reach and payload, while allowing for plenty of customizations and upfits that add specific value for forestry work. These kinds of feature make Versalift equipment especially appealing, because efficient tools make forestry and vegetation management work both profitable and sustainable.
Forestry Bucket Truck Upfits and Customizations
Forestry bucket trucks, like the Versalift Overcenter line, support the needs of Public and private vegetation management fleets. Because Versalift builds its forestry bucket trucks to handle rough terrain and heavy tree work, they are built and customized to accommodate a wide variety of situations, climates, altitudes and conditions.The broad set of available upfits for the forestry and vegetation management industries ensures that our customers get the equipment that their organizations need to get their jobs done right the first time.
Forestry bucket trucks – Versalift Overcenter
Versalift Overcenter (VO) bucket trucks for the tree care and vegetation management industries provide a high return on investment because they don't have any required downtime, and there is no mandatory tear-down. Many of our fleet clients buy their forestry equipment from us with the expectation that it will last 15-20 years, though on many cases, those trucks are still on the road many years later than that. At Versalift, we work directly with fleet managers and other decision makers to design and build forestry and tree care solutions around the raw power and durability of our VO series of bucket trucks.
Bucket Trucks by Versalift are designed to work as part of your team
At Versalift, we have been continually improving at building safe and reliable bucket trucks for decades. Our company has continued to innovate by designing and building the first articulated telescopic aerial lifts in the industry, and then most recently by inventing the TruGuard™ Safety System, which provides an additional layer of insulation to operators at the platform. Versalift Overcenter bucket trucks can be configured in many ways: the aerial lift can be rear mounted or reverse mounted to account for other equipment. Because each Versalift bucket truck is built with first-time quality in mind, you can expect the highest levels of quality and reliability no matter what size of lift, options, or which set of options you choose.
VERSALIFT EQUIPMENT FOR THE FORESTRY AND TREE CARE INDUSTRIES
Whether you need extra side reach, material handling or additional vertical working height, when you work with our team of sales engineers, you'll find the equipment you need. Browse our offering of Versalift aerial lifts for forestry and tree care applications.
Versalift Service and Support
Customer service is a point of pride at Versalift. As an industry leader in bucket truck safety, stability and overall quality, we put our customers first. Versalift bucket trucks for forestry, tree care and vegetation management applications are built to stay in service. Non-lub bearings mean that Versalift units require less maintenance than other brands. Thoughtful engineering has significantly reduced the time it takes for operators to perform their daily visual inspections on these vehicles.
Versalift online operator training programs, which are available to all customers, provide the safety and operational training that all technicians require. The Versalift Global Partner Program provides customers with the ability to support and maintain their equipment through the internet, with digital access to manuals, parts sheets and service schedules.
Forestry bucket trucks can be configured with rear-mounted, or reverse-mounted lifts, allowing more customizations and flexibility for the customer.
FORESTRY AERIAL LIFTS AS PART OF YOUR TEAM
Versalift is the industry leading manufacturer of the safest and most reliable bucket trucks available on the market today. The company has innovated by designing and building highly versatile aerial lifts.  In the case of Versalift Overcenter bucket trucks, the aerial lift can be rear mounted or reverse mounted. This provides flexibility to users, who want their forestry equipment to be configured to their exact specifications. Because every Versalift bucket truck is assembled and upfitted by hand, by experienced and certified technicians, you can expect the same levels of safety, quality and reliability no matter the working envelope, options, or special features you choose.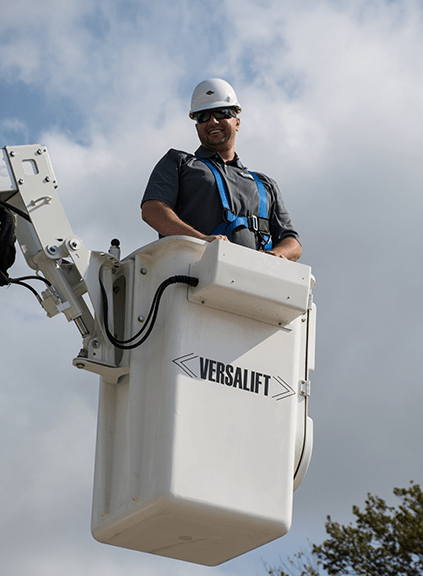 UNIQUE VERSALIFT FEATURES
The culture of innovation and quality at Versalift powers our passion to be the best.
No Mandatory Tear-downs - Versalift bucket trucks are engineered to the highest standard of quality so that they last safely and reliably
Non-lub Lift Bearings - Non-Lub lift bearings require little to no maintenance and are designed to last the life of the truck
Dual Pin Retention - Every critical pin on the bucket truck and lift assembly has a redundant pin-set, which is then torque striped. Safety is our priority, and our redundant systems prove that
Torque Striping - An extra step that we take to ensure the quality of our work. All critical bolts are torque seal marked, allowing the lift operator to be more efficient during visual inspection
About Versalift
VERSALIFT is a leading global manufacturer of bucket trucks, digger derricks, cable placers and other specialty equipment for use in the power generation, transmission and distribution, investor-owned utility, telecommunications, bridge inspection, light and sign, and forestry industries. Providing equipment sales, service, training, warranty and financing to government agencies, corporations, contractors, co-ops and municipalities through its global network of facilities and distributors, the company employs more than 900 employees worldwide.