Versalift Equipment - Engineered For Electric Utility Fleets
Versalift electric utility transmission and distribution fleet equipment includes insulated articulated telescopic bucket trucks, digger derricks and high access aerial platforms, and creates a lower true cost of ownership for electric utility service fleets
Electric Utility Bucket Trucks
Electric utility bucket trucks, insulated aerial lifts and digger derricks built by Versalift provide the highest standard of safety, reliability and ease of maintenance to fleets in the electric utility industry. Smarter, more reliable design ensures higher levels of operator safety and efficiency for linemen at the platform.
Versalift creates a lower true cost of ownership through smarter, more reliable aerial lift design.
Working Height
34' - 217'
Height to Bottom of Platform
29'- 211'
Horizontal Reach
20' 8" - 102'
Stowed Travel Height
9' 9" - 13' 6"
Platform Capacity
300 - 2,200 lbs
Insulated or Non-insulated
Insulated
Explore Your Options
A LOWER TRUE COST OF OWNERSHIP FOR ELECTRIC UTILITY FLEETS
Electric Utility Distribution Bucket Trucks
Electric Power Distribution bucket trucks are purpose-built to work in some of the most hazardous conditions. It is important to every lineman, and to every fleet administrator, to be certain they have the safest and most reliable equipment available to them. Redundant safety features should include auto shut off systems, and ways of delivering additional protection to crews and bystanders. Experienced linemen always put safety first.
Visit Versalift Power Distribution Industry Page
Electric Utility Transmission Bucket Trucks
Bucket trucks manufactured and upfitted for electric power transmission infrastructure work are able to safely convey transmission linemen up to greater than 200 feet in the air. Power transmission bucket trucks are available with and without insulation systems, and now come standard with TruGuard® – the world's most advanced bucket truck safety system.  Insulated bucket trucks, high reach aerial work platforms and digger derricks built by Versalift create a lower true cost of ownership.
High Access Work Platforms
High access work platforms offer the working envelope needed to service and maintain electric utility transmission infrastructure. With the broadest range of high access work platforms in North America, Versalift offers insulated and uninsulated aerial work platforms that range in reach from 104' to 220'.  Updated features include proven telematics and data monitoring systems, as well as new stability and outrigger innovations, creating significant advantages in job site efficiency. 
Visit Versalift High Access Platforms Page
Powerful Digger Derricks 
Digger derricks are specialty equipment used by utility construction fleets to dig holes and set poles. Often used in coordination with overhead telecommunication infrastructure, utility poles themselves are often serviced by multiple fleets. Digger derricks that set power poles need more power, range and sheave height. While most electric power distribution networks run at around 40', utility distribution fleets have additional specialized work platforms with reach capacity that pushes as high as 100'.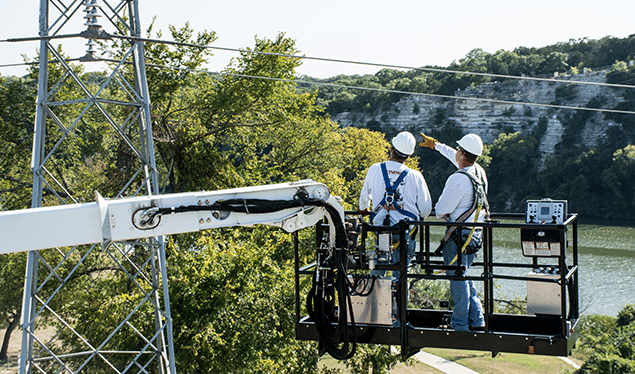 Versalift Equipment for the Electric Utility Industry
Choose from a variety of Versalift aerial lifts, like insulated, articulated telescopic material handlers, transmission aerials and rugged digger derricks, each of which is built for daily use in the electric utility industry.
Versalift Customer Service
With a nationwide network of distribution, parts and service centers, we are dedicated to supporting our customers in the utility industry by providing excellent service, maintenance and testing for their equipment so that it remains actively in service. At Versalift, we have earned our strong reputation for service quality.
With no mandatory tear downs or required part replacements for any new equipment, Versalift bucket trucks, digger derricks and cable placers are the industry leader in safety, reliability and overall quality. Our customers may find a lot of our competitors' equipment in the service bays among our nationwide network of distributors and service locations.
At Versalift, every insulated aerial lift is designed to exceed the dielectric requirements of ANSI and OSHA.
Less Downtime, Faster Response, More Profitable
Versalift aerial lifts are designed to work as part of your team
Each Versalift aerial lift is delivered with the configuration, warranty and parts support that our customers require. We are committed to keeping our customers' fleets in service and functioning with as little downtime as possible.
UNIQUE VERSALIFT FEATURES
The culture of innovation and quality at Versalift powers our passion to be the best.
Lower True Cost of Ownership - Engineered to the highest standards of quality, our bucket trucks, high reach units and digger derricks feature smarter, more reliable design for a lower true cost of ownership.
Full Service Provider - With more than 250 service locations in North America, rental fleet coverage and competitive equipment financing, Versalift distributors deliver a complete fleet solution.
Ease of Maintenance - Versalift equipment spends more time in service, and less time in the shop. Non-Lube lift bearings require less maintenance, and are designed to last the practical life of the truck. Versalift aerial lifts have no mandatory tear-downs.
Attention to Detail - Torque striping is an extra step taken to ensure the quality of your equipment. All critical bolts are torque seal marked, which allows lift operators to efficiently conduct daily visual inspections. Additionally, every critical pin on the bucket truck and lift assembly has a redundant pin-set, which is then torque striped.
World's Most Advanced Safety Systems - Versalift Electroguard and TruGuard® safety systems combine to offer the safest telescopic insulated aerial units on the market, at any height and position, including fully retracted.
About Versalift
Versalift manufacturers aerial devices, digger derricks and other specialty equipment for power generation, transmission and distribution, investor-owned utility, telecommunication, light & sign, and tree care industries. Working with co-ops, municipalities, government agencies and corporations through a global network of manufacturing and distribution facilities, Versalift is a Time Manufacturing Company brand.
Time Manufacturing Company is a global manufacturer of bucket trucks, digger derricks, cable placers, truck bodies, buckets, and other specialty equipment for electric utility, telecommunications, bridge inspection, tree care and other fleet-supported industries. Selling via the Versalift, BrandFX, Aspen Aerials, Ruthmann, Steiger, Ecoline and Bluelift brands, the Company employs more than 2,150 associates worldwide.