Bucket Trucks for the Electric Utility Industry
Insulated aerial lifts by Versalift are the safest, most reliable choice of bucket truck for electric utility grid management and maintenance.
Bucket Trucks in the Electric Utility Industry
Aerial lifts, digger derricks and cable placers play a critical role in the Electric Utility Industry. Electricity powers our communities – our businesses, homes, schools and hospitals. Aerial lifts are some of the most important tools for making sure that electrical utilities, and the linemen who work for them, can do their jobs safely and efficiently.
The American Utility industry is investing heavily in upgrading existing aging infrastructure and in modernizing the grid.
Working Height
34' - 217'
Height to Bottom of Platform
29'- 211'
Horizontal Reach
20' 8" - 102'
Stowed Travel Height
9' 9" - 13' 6"
Platform Capacity
300 - 2,200 lbs
Insulated or Non-insulated
Insulated
Explore Your Options
DEMAND VERSALIFT
A tradition of Innovation
Versalift has been an innovator in the development of insulated aerial lifts for more than 50 years, and has partnered with many of the world's largest and most effective utility companies ever since. With increasing demand for uninterrupted, inexpensive energy, companies that build, repair, maintain and manage electrical utility infrastructure need the tools to meet that demand. Versalift aerial lifts, with a reputation for safety, reliability and overall quality, are those tools.
People are every organization's most important asset. Because electricity is dangerous, it is crucial that fleet managers choose the safest equipment available to them. At Versalift, safety is our highest priority. We have invented several safety innovations, including ElectroGuard and TruGuard. ElectroGuard is available on every insulated telescopic and articulated telescopic aerial lift up to 60 feet, and includes a 42" insulation gap. This gap, which prevents electrical current from arcing from the boom to the pedestal, is more than double the insulation gap length of our competitors.
Versalift aerial lifts come in working heights from 29' to 217' and are engineered to serve a wide variety of functions in the construction, maintenance and management of the grid.
Aerial Lifts, Digger Derricks and Cable Placers for the Utility Industry.
The American electric power industry faces several challenges. Beyond growing demand from customers, the industry is investing heavily in upgrading existing aging infrastructure and in modernizing the grid. Investor-owned utilities are investing tens of billions of dollars per year in both power transmission and power distribution levels. Utility companies and co-ops are improving efficiency and lowering costs, and fleet managers need to make sure they purchase or lease the aerial lifts that will help their organizations continue to do just that. Because there are millions of miles of powered cable in the grid, utility industry players will need to continue this work for decades.
Many of our bucket trucks can be customized with TruGuard™, our patented upper control isolation system. The optional TruGuard™ Safety System was recently improved, and it provides an added layer of protection to linemen who are working at the platform. Truguard''s™ patented technology allows hydraulic hoses to feed fluid through an insulation gap, effectively isolating the platform and giving linemen access to all controls and tool ports in the bucket itself while remaining dielectrically secure.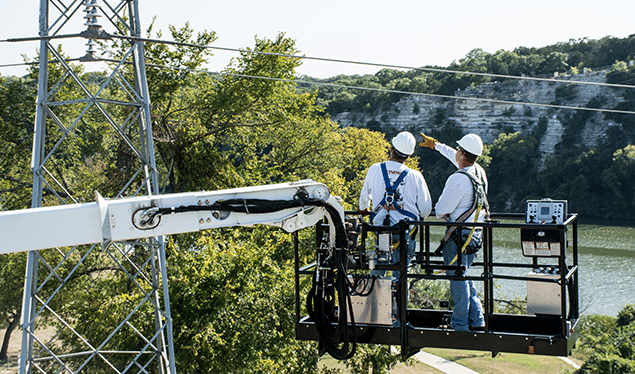 Versalift Equipment for the Electric Utility Industry
Choose from a variety of Versalift aerial lifts, from van-mounted, 29' lifts to Transmission aerials and rugged Digger Derricks, each of which is built specifically for the Utility Industry.
Versalift Customer Service
With a family of distribution, parts and service centers, Versalift is dedicated to supporting its customers in the utility industry by keeping their bucket trucks in service. Versalift has earned its strong reputation among its customers for service quality by providing strong diagnostic and troubleshooting support.
When we get a call from a fleet manager, shop supervisor or mechanic, our goal is to get their aerial lift back in service as quickly as possible. We have grown to become the leader in safety, stability and quality leader for bucket trucks for North America, South America, and Europe because we take the time to put our customers first.
At Versalift, every insulated aerial lift is designed to exceed the dielectric requirements of ANSI and OSHA.
Less Downtime, Faster Response, More Profitable
Versalift aerial lifts are designed to work as part of your team
Each Versalift aerial lift is delivered with the configuration, warranty and parts support that our customers require. We are committed to keeping our customers' fleets in service and functioning with as little downtime as possible.
UNIQUE VERSALIFT FEATURES
The culture of innovation and quality at Versalift powers our passion to be the best.
ElectroGuard - Provides a 42" dielectric gap in the Versalift boom, which is more than double the gap of our competitors
TruGuard 2.0™ - Versalift's newly redesigned upper control isolating system provides another level of protection to linemen working in an aerial lift from phase-to-phase electrical contact
Torque Striping - An extra step that we take to ensure the quality of our work. All critical bolts are torque seal marked, allowing the lift operator to be more efficient during visual inspection
Dual Pin Retention - Every critical pin on the bucket truck and lift assembly has a redundant pin-set, which is then torque striped. Safety is our priority, and our redundant systems prove that
Non-lub Lift Bearings - Non-Lub lift bearings require little to no maintenance and are designed to last the life of the truck
No Mandatory Tear-downs - Versalift bucket trucks are engineered to the highest standard of quality so that they last safely and reliably
About Versalift
As the industry quality leader in bucket trucks, Versalift also manufacturers aerial devices, digger derricks and other specialty equipment for power generation, transmission and distribution, investor-owned utility, telecommunication, light & sign, and tree care industries. Working with co-ops, municipalities, government agencies and corporations through its global network of facilities and family of distributors, the company manufactures, sells and services bucket trucks in North America, South America, and Europe and employs nearly 700 associates worldwide. For further information about telescopic articulated bucket trucks please contact us at sales@versalift.com.