Electric Power Transmission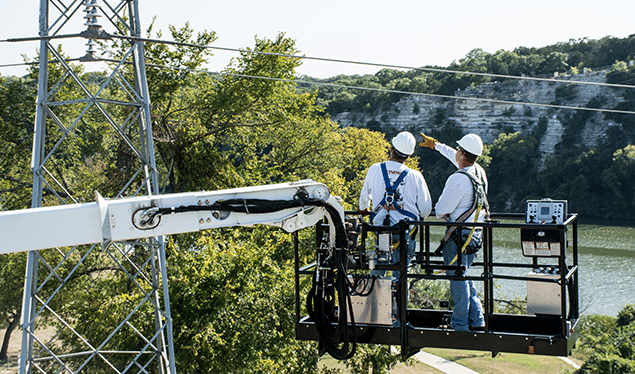 Bucket Trucks for Electric Power Transmission
Insulated bucket trucks, high reach aerial work platforms and digger derricks built by Versalift create a lower true cost of ownership for electric power transmission construction and maintenance fleets.
ELECTRIC UTILITY TRANSMISSION BUCKET TRUCKS
Versalift high access work platforms and bucket trucks create value for electric power transmission fleets around the world by reliably and efficiently providing transmission linemen with the reach and access they need. Enabling safe access to transmission networks, Versalift has the broadest range of high access equipment in North America.
Versalift high access equipment for electric utility transmission fleets offers improved performance, enhanced productivity and industry-leading reliability.
Working Height
80.17 ft (24.38 m) - 217 ft (66.14 m)
Height to Bottom of Platform
75.12 ft (22.86 m) - 211 ft (64.31 m)
Horizontal Reach
102 ft (31.09 m)
Stowed Travel Height
12 ft (3.66 m) to 13.5 ft (3.96 m)
Platform Capacity
800 lbs (362.87 kg) - 1323 lbs (600.1 kg)
Platform Rotation
120° to 180°
Insulated or Non-insulated
Insulated
Explore Your Options
BUCKET TRUCKS FOR ELECTRIC POWER TRANSMISSION
Electric utility transmission bucket trucks
The high access work platforms that we build for electric utility construction and maintenance are engineered for productivity, reliability, performance, speed and safety. Versalift high reach aerial lifts include a broad range of equipment, available in either insulated or non-insulated packages. Product innovations include new technology tools, including operator displays at both platform controls and lower controls on new CTA units. Eliminating the need for fiber optic conductors in our insulated aerial lifts, we have engineered a more reliable and proven system.  
"The equipment … is designed by the engineers at Versalift to be reliably safe and efficient, and to create a lower true cost of ownership."
Efficiency, Reliability and Performance for Electric Utility Transmission Fleets
The global electric power transmission industry faces several challenges. New, renewable sources of electric power, growing demand from end users, and significant investment in upgrading existing aging power transmission infrastructure are some major hurdles.
Easier to Maintain, with the Lowest Recall Rate in the Industry
With pressure on state and regional electrical transmission companies to improve efficiency and lower costs, fleet decision makers should consider Versalift bucket trucks, diggers and high reach aerial lifts. Versalift equipment is easier to maintain, highly durable and has the lowest recall rate in the industry. That means less downtime in the shop, and more time spent productively on the job site.  Versalift aerial lifts have earned their reputation for safety, reliability and overall quality. 
Explore Insulated and Non-Insulated High Access Aerial Lifts
Bucket Trucks for Electric Power Transmission are Built for Efficiency, Reliability & Safety
Bucket trucks that are engineered for daily use in electric power transmission work are designed to accomplish many goals, and none is more important than safely conveying electric utility transmission linemen, when accessing high voltage infrastructure at greater than 200 feet up. The equipment that is needed for this critical service to our infrastructure is designed by the engineers at Versalift to be reliably safe and efficient, and to create a lower true cost of ownership.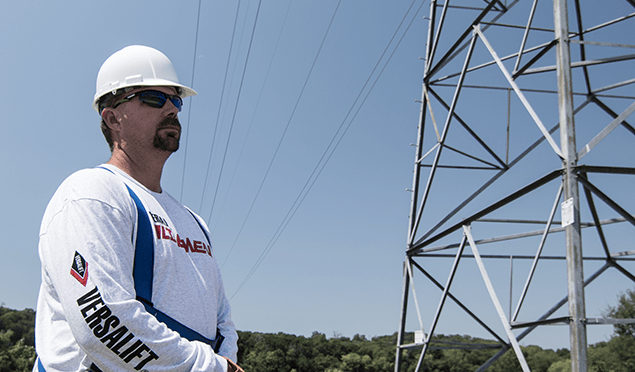 Versalift Equipment for Electric Power Transmission
Choose from a huge variety of Versalift aerial lifts: articulated telescopic VSTs with material handling capabilities, the insulated Skybird 215, with a working height of 217', or the powerful, innovative TMD Digger Derrick series.
Versalift insulated aerial lifts are designed to work as part of your team
Your Versalift bucket truck has the configuration, warranty and parts support that reflect our commitment to keeping our Electrical Power Transmission Customers' fleets on the road, and functioning with as little downtime as absolutely necessary.
At Versalift, we work directly with decision makers to design solutions that provide the required tools, controls and configurations.
Choose from a variety of Versalift insulated aerial lifts and digger derricks, each of which is built specifically for the Electrical Power Transmission Industry. Versalift supports fleet managers to be fully confident in their equipment and in the safety of their employees.
At Versalift, every insulated aerial lift is designed to exceed the dielectric requirements of ANSI and OSHA.
Veralift Service
With a family of distribution, parts and service centers, Versalift is dedicated to supporting its customers in the power transmission industry by keeping their bucket trucks in service. Versalift has earned its strong reputation among its customers for service quality by providing strong diagnostic and troubleshooting support.
When we get a service support call from a fleet manager, shop supervisor or mechanic, our goal is to get them back in service as quickly as possible. We have grown to become the leader in safety, stability and quality for aerial devices in North America, South America, and Europe because we take the time to put our customers first.
VERSALIFT QUALITY FEATURES FOR THE POWER TRANSMISSION INDUSTRY
A culture of innovation and quality at Versalift powers our passion to be the best.
Lower True Cost of Ownership - Engineered to the highest standards of quality, our bucket trucks, high reach units and digger derricks feature smarter, more reliable design for a lower true cost of ownership.
Full Service Provider - With more than 250 service locations in North America, rental fleet coverage and competitive equipment financing, Versalift distributors deliver a complete fleet solution.
Ease of Maintenance - Versalift equipment spends more time in service, and less time in the shop. Non-Lube lift bearings require less maintenance, and are designed to last the practical life of the truck. Versalift aerial lifts have no mandatory tear-downs.
Attention to Detail - Torque striping is an extra step taken to ensure the quality of your equipment. All critical bolts are torque seal marked, which allows lift operators to efficiently conduct daily visual inspections. Additionally, every critical pin on the bucket truck and lift assembly has a redundant pin-set, which is then torque striped.
About Versalift
As the industry quality leader in bucket trucks, Versalift also manufacturers aerial devices, digger derricks and other specialty equipment for power generation, transmission and distribution, investor-owned utility, telecommunication, light & sign, and tree care industries. Working with co-ops, municipalities, government agencies and corporations through its global network of facilities and family of distributors, the company manufactures, sells and services bucket trucks in North America, South America, and Europe and employs nearly 700 associates worldwide. For further information about telescopic articulated bucket trucks please contact us at sales@versalift.com.