Non-overcenter bucket trucks: versatility for multiple industries
Versalift non-overcenter bucket trucks provide stability and power in a smaller package.
Non-overcenter bucket trucks for a variety of industries
The non-overcenter series of Versalift bucket trucks has the power, reach and flexibility to be used as a service truck for any number of industries.  The options available on Versalift Non-Overcenter Bucket Trucks enable fleets to operate the exact tool they need to get the job done right the first time.
At Versalift, our commitment to you is to deliver the highest quality, safest and most reliable bucket trucks available on the market today.
Working Height
48' 8" - 64' 11"
Height to Bottom of Platform
43' 8" - 59' 11"
Horizontal Reach
28' 7" - 39' 1"
Stowed Travel Height
11'1" - 13'
Platform Capacity
500 - 750 lbs
Insulated or Non-insulated
Insulated
Explore Options
DEMAND VERSALIFT
A broad set of aerial lifts that can handle many situations
Versalift offers a line of non-overcenter bucket trucks to cover many needs. These trucks are built to accommodate a set of situations, and so are very versatile.
Versalift non-overcenter bucket trucks are available in a wide range of working heights, and an equally broad range of horizontal reach.  While utility companies and electrical contractors are most likely to require material handling capability, arborists and parks management services tend not to require material handling on the bucket trucks they need. Our customers note that they like that our non-overcenter lifts feature a faster, more maneuverable bucket. This is because Versalift uses a Comp Link system, which allows the upper and lower booms to operate simultaneously.
A Global Company that is focused on the Details
As a global company with Manufacturing, Service and Distribution Centers across North America, Latin America, and Europe, we have built lasting relationships with the largest Utility and Telecom companies in the world.  With extensive on the ground experience with all climates, countries and geographies our trained Sales Management Staff will help you select and build the perfect companion for your business.
Our manufacturing plant has been building non-overcenter Bucket Trucks for decades!  Because each Versalift bucket truck is crafted with very close attention to detail, you can expect the same levels of safety, quality and reliability no matter what size of lift, options, or set of options you choose.
Whatever your aerial lift need may be, Versalift prides itself on providing you with a buying experience, on time delivery, and support and maintenance that will exceed your expectations.
Industries Served
Versalift Non-overcenter bucket trucks are used in the telecommunications, utility, power transmission, power distribution and tree care industries.
VERSALIFT CUSTOMIZATIONS
Our Aerial lifts are built by hand. Since 1965, Versalift has continued to innovate in order to build the safest and most durable bucket truck available in the industry.
Our sales team will help you find the right solution, and we will work to build the custom features you need to support your priorities and deliver the tool that will help you accomplish your goals.
We never stop looking for innovations to improve the reliability, safety and ease of use of our aerial lifts.
WORLD'S FIRST ARTICULATED TELESCOPIC AERIAL DEVICE - 1980
A lot has changed since we built our first aerial lift in 1965. But one thing that has not is our approach. We build every Versalift to last, it is not unusual to see a 30 year old Versalift Bucket Truck being used daily!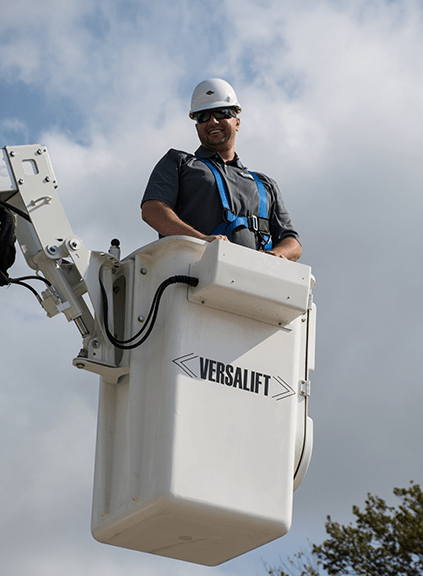 UNIQUE VERSALIFT FEATURES
The culture of innovation and quality at Versalift powers our passion to be the best.
Torque Striping - An extra step that we take to ensure the quality of our work. All critical bolts are torque seal marked, allowing the lift operator to be more efficient, and to receive visual indication when a bolt is loose
Dual Pin Retention - Every critical pin on the bucket truck and lift assembly has a redundant pin-set, which is then torque striped. Safety is our priority, and our redundant systems prove that
Non-Lub Lift Bearings - Non-Lub lift bearings require little to no maintenance and are designed to last the life of the truck
No Mandatory Tear-down - Versalift bucket trucks are engineered to the highest standard of quality so that they last safely and reliably
About Versalift
As the industry quality leader in bucket trucks, Versalift also manufacturers aerial devices, digger derricks and other specialty equipment for power generation, transmission and distribution, investor-owned utility, telecommunication, light & sign, and tree care industries. Working with co-ops, municipalities, government agencies and corporations through its global network of facilities and family of distributors, the company manufactures, sells and services bucket trucks in North America, South America, and Europe and employs nearly 700 associates worldwide. For further information about telescopic articulated bucket trucks please contact us at sales@versalift.com.