Cable Placers for the Telecommunications Industry
Cable placers by Versalift allow for the safe and efficient construction and maintenance of telecommunications cable networks
Cable Placers for the Telecommunications Industry
Cable placers by Versalift are built to safely and reliably install, repair and maintain telecommunication networks. They are specifically designed for our clients in the telecommunications industry who build the networks of cable that carry data to almost every household and business in the United States. 
Cable placers by Versalift provide industry-leading safety features and exceptional stability.
Working Height
40' to 40' 6"
Height to Bottom of Platform
35' to 35' 6"
Horizontal Reach
26' 6" to 29' 7"
Stowed Travel Height
10' 6" to 11' 6"
Platform Capacity
300 to 350 lbs.
Insulated or Non-insulated
Non-insulated
Explore Options
DEMAND VERSALIFT
Booming Demand for High Speed Internet
Super fast internet connections are in increasingly high demand, and our customers know that if they are to meet that booming demand, they must continue to expand and replace the more than one hundred million miles of cabling that comprise the domestic telecommunications network. Because it was first created in the nineteenth century, the American telecommunications network is made up of a variety of cable types, including fiber optic cable, coaxial cable, twisted pair cabling and hybrid cable.
Cable Placer Aerial Lifts and the Telecommunications Industry
The Versalift cable placer series of truck-mounted aerial devices is mainly built to serve the telecommunications industry. The series has been designed to provide outside plant technicians, who are responsible for stringing, placing or pulling cable, the most efficient and cost-effective telecommunications construction vehicle.
Versalift offers the STP-36-NE, fitted with its durable articulating telescopic lift, as a basic cable placer. Normally purposed for light-duty aerial plant construction of fiber optic cable or strand, the STP-36-NE has 350 lbs of platform capacity and 400 lbs of side load capacity.

The VTP-40-NE is a telescoping boom-equipped cable placer with 500 lbs of platform capacity and 600 lbs of side load capacity. Along with being  equipped with fully hydraulic upper controls, the VTP-40-NE has rear reel cable carrying capacity of up to 8,000 lbs.
Cable Placer Bucket Trucks to enhance your capabilities
Cable placers by Versaliftaugment the capabilities of your people and your fleet. As is the case with all Versalift aerial lifts, there are numerous customizations and variations in the cable placer product line to account for our clients' preferences, work methods and job requirements. Because each Versalift cable placer is crafted with very close attention to detail, our customers can expect the highest levels of safety, quality and reliability.
Cable placers by Versalift are designed to work as part of your team
Your Versalift cable placer has the controls, configurations, warranty and parts support that reflect our commitment to keeping our customers' fleets in service and functioning in an efficient and cost effective manner.
With no mandatory tear-downs, Versalift aerial lifts spend less time in the shop and more time in service. Choose Versalift to safely maximize your capability and efficiency, keep your customers happy and create better returns for your bottom line. At Versalift, our commitment to each of our customers is to deliver the highest quality, safest and most reliable cable placers available on the market today.
Industries Served
Cable placer bucket trucks by Versalift are most commonly used in the telecommunications industry for the construction and maintenance of telecommunications lines.
VERSALIFT CUSTOMIZATIONS
Our Aerial lifts are built by hand. Since 1965, Versalift has continued to innovate in order to build the safest and most durable bucket truck available in the industry.
Our sales team will help you find the right solution, and we will work to build the custom features you need to support your network maintenance and construction priorities.
We never stop looking for improvements in the reliability, safety and ease of use of our aerial lifts.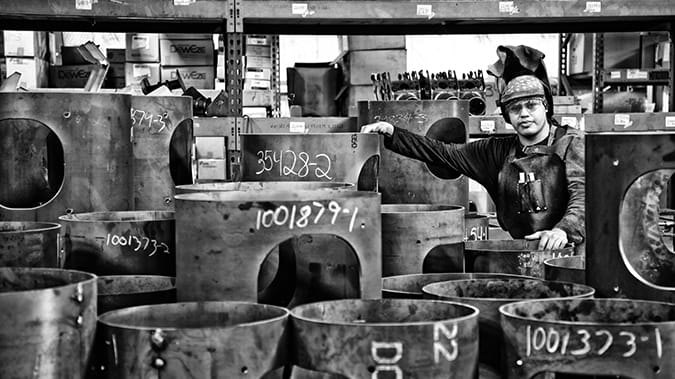 WORLD'S FIRST ARTICULATED TELESCOPIC AERIAL DEVICE - 1980
A lot has changed since we built our first aerial lift in 1965. But one thing that has not is our approach. We build every Versalift to last, it is not unusual to see a 30 year old Versalift Bucket Truck being used daily!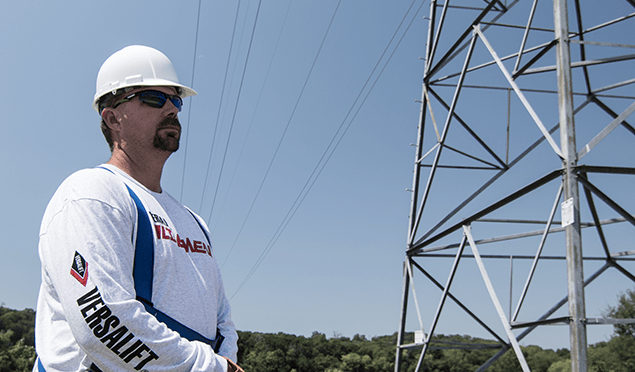 UNIQUE VERSALIFT FEATURES
The culture of innovation and quality at Versalift powers our passion to be the best.
Torque Striping - An extra step that we take to ensure the quality of our work. All critical bolts are torque seal marked, allowing the lift operator to be more efficient, and to receive visual indication when a bolt is loose
Dual Pin Retention - Every critical pin on the bucket truck and lift assembly has a redundant pin-set, which is then torque striped. Safety is our priority, and our redundant systems prove that
Non-Lub Lift Bearings - Non-Lub lift bearings require little to no maintenance and are designed to last the life of the truck
No Mandatory Tear-down Inspection - Versalift bucket trucks are engineered to the highest standard of quality so that they last safely and reliably
About Versalift
As the industry quality leader in bucket trucks, Versalift also manufacturers aerial devices, digger derricks and other specialty equipment for power generation, transmission and distribution, investor-owned utility, telecommunication, light & sign, and tree care industries. Working with co-ops, municipalities, government agencies and corporations through its global network of facilities and family of distributors, the company manufactures, sells and services bucket trucks in North America, South America, and Europe and employs nearly 700 associates worldwide. For further information about telescopic articulated bucket trucks please contact us at sales@versalift.com.