BUCKET TRUCKS - TELECOMMUNICATIONS FLEET EQUIPMENT, CABLE PLACERS & DIGGERS
Bucket Trucks for telecommunications fleets include the new Versalift 5G bucket truck. Smarter design makes this bucket truck highly innovative, with unique 5G features. The dedicated 5G telecommunications unit is another way that Versalift creates innovative value for telecommunications fleets across North America and around the world.
Bucket Trucks - Telecommunications Equipment for 5G Installation
Bucket trucks are used in American cities and suburbs to maintain overhead telecommunication networks. Today and into the future, they are used to install 5G antennas while simultaneously upgrading and improving the larger wired network. Highly maneuverable and compact, Versalift 5G units eliminate the need for a splicing trailer, which saves time, capital expense and upkeep expense.
Telecommunications – Versalift 5G Bucket Truck Features
Versalift custom-designed body enclosure, with internal cable splicing unit 

19.5k GVWR Super Duty Chassis or Ford Transit Van Applications

Taller aerial lift pedestal and workmen body enclosure

Fixed, drop down fly-boom for easy access and greater reach (additional 2ft)

Electric/hydraulic controls for better maneuverability
Versalift is the only aerial lift manufacturer able to install an aerial lift onto a Ford transit commercial van.
Working Height
34' - 85' 2"
Height to Bottom of Platform
29' - 80' 2"
Horizontal Reach
16' 7" - 47' 2"
Stowed Travel Height
9' 9" - 13'
Platform Capacity
300 - 800 lbs
Insulated or Non-insulated
Non-insulated
Explore Your Options
DEMAND VERSALIFT
Bucket Trucks for 5G Telecommunications Fleets – Innovative Solutions for the 5G Rollout
Bucket Trucks for Telecommunications Fleets: Versalift has created a dedicated 5G Unit working with national and regional telecommunications partners. Versalift 5G bucket trucks combine a highly maneuverable telecom bucket truck and splicing trailer into one efficient system. These innovative 5G aerial lift units allow technicians to work throughout the year because the splicing cabins are fully climate-controlled.  Versalift 5G bucket trucks are designed with the dual intent of installing lighter 5G antennas and providing systems maintenance. In many cases, 5G antennas can weigh as little as 50 lbs and as much as 350 lbs. Heavier antennas can require specialized utility pole mounts, and their installations require greater material handling capacity than what is available on a light unit. Other telecommunications bucket trucks, such as SST-36 and VST-40 equipped with material handling, are suited to heavier installation tasks.  Versalift 5G units are rolling off of the factory floor on an ongoing basis. 
Bucket Trucks – Ready-To-Go 5G Units for Telecommunications
Versalift is designing and delivering a Ready to Go Specification for 5G installers across the country via its multiple upfit locations. Contact your Versalift distributor.
The TEL, VANTEL and SST models of Versalift bucket trucks
The TEL, VANTEL and SST models in our line of bucket trucks for the telecommunications industry provide a high return on investment, with high uptime, and no mandatory tear-down. Many Versalift clients buy their telecommunications bucket trucks with the expectation that they will last 15-20 years, though on many cases, those trucks and vans are still on the road 25 years later. The STP and VTP lines of Versalift cable placers are essential to the construction and maintenance of telecommunications cable networks.
Many of our customers in the telecommunications industry favor the VANTEL series that we offer. The augmented storage capacity and organized rack and shelving systems are features within our VANTEL line that match the needs and preferences of telecommunications technicians. We work directly with your fleet managers to design custom solutions that provide the tools and configurations that exactly match your specific requirements.
Versalift Equipment for Telecommunications
Browse a variety of Versalift bucket trucks and cable placers, each of which is built specifically for the Telecommunications Industry
Bucket Trucks by Versalift are designed to work as part of your team
Versalift has been building bucket trucks for data, cable TV and telephone for decades, and has innovated by designing building the lightest aerial lifts in the industry.  This means that Versalift is the only manufacturer who can install an aerial lift onto a Ford transit commercial van. Because each Versalift bucket truck is crafted with very close attention to detail, you can expect the same levels of safety, quality and reliability no matter what size of lift, options, or which set of options you choose.
Increasing demand for high speed internet is continuing to drive change in the telecommunications industries.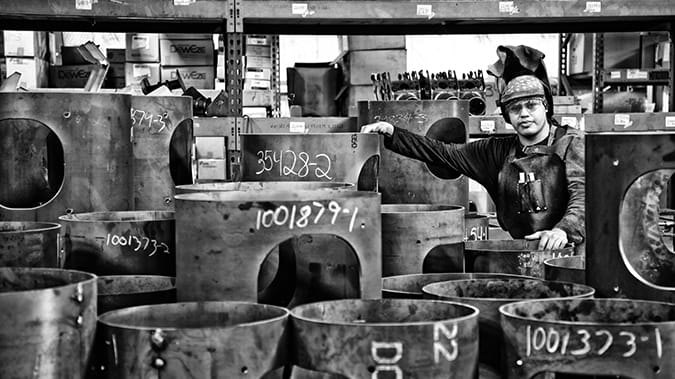 Less Downtime, Faster Response, More Profitable
Your Versalift will spend more time at work
Your Versalift bucket truck has the configuration, warranty and parts support that reflect our commitment to keeping our Telecommunications Customers' fleets on the road, and functioning with as little downtime as absolutely necessary.
Choose from a huge variety of Versalift aerial lifts, from van-mounted, 29' lifts to articulated telescopic VSTs with material handling capabilities. Versalift aerial lifts are often complemented by the  TMD Digger Derrick series, which increases productivity with full pressure hydraulic controls. Our aerial lifts provide telecommunications fleet managers with the tools they need to safely maximize the capability and efficiency of their fleets. This means less downtime, faster fleet response and greater profitability.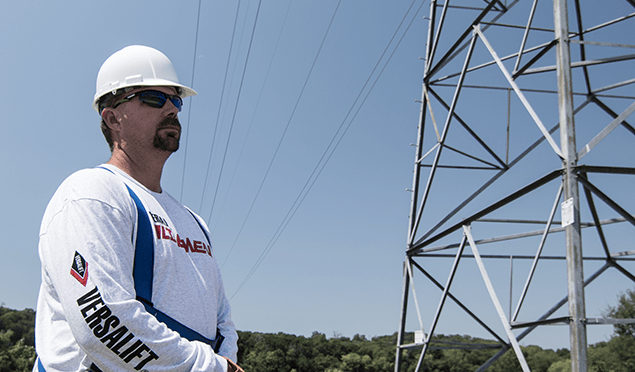 UNIQUE VERSALIFT FEATURES
The culture of innovation and quality at Versalift powers our passion to be the best.
Non-Lub Lift Bearings - Non-lub bearings require little to no maintenance and are designed to last the life of the aerial device
No Mandatory Tear-down - Versalift aerial lifts are engineered to the highest standard of quality so that they last safely and reliably
Torque Striping - An extra step that we take to ensure the quality of our work. All critical bolts are torque seal marked, allowing the lift operator to perform daily inspections more efficiently, and to receive visual indication when a bolt is loose
Dual Pin Retention - Every critical pin on the aerial lift has a redundant pin-set, which is then torque striped. Safety is our priority, and our redundant systems prove that
About Versalift
As the industry quality leader in bucket trucks, Versalift also manufacturers aerial devices, digger derricks and other specialty equipment for power generation, transmission and distribution, investor-owned utility, telecommunication, light & sign, and tree care industries. Working with co-ops, municipalities, government agencies and corporations through its global network of facilities and family of distributors, the company manufactures, sells and services bucket trucks in North America, South America, and Europe and employs nearly 700 associates worldwide.  For further information about telescopic articulated bucket trucks please contact us at sales@versalift.com.