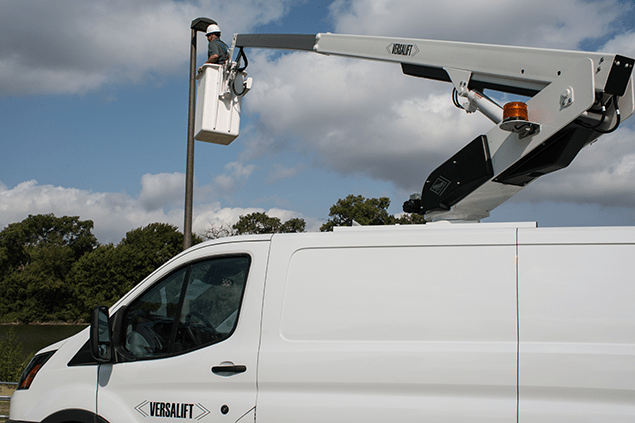 Bucket trucks for the Sign Light & Traffic Industries
Versalift insulated and non-insulated bucket trucks are essential to those organizations that maintain lighting, signage and traffic signals. 
Bucket Trucks in the Sign, Light & Traffic Industries
Insulated and non-insulated aerial lifts play a critical role in the Sign, Light and Traffic Industries. Because the majority of signs, lights and traffic signals must be accessed through overhead means, aerial lifts provide technicians safe access to the hard-to-reach equipment they must manage and maintain.
Since its founding in 1965, Versalift has been a leading innovator in the development of insulated aerial lifts
Height to Bottom of Platform
29' - 75'
Horizontal Reach
20' 8" - 46' 10"
Stowed Travel Height
9' 9" - 12' 5"
Platform Capacity
300 - 800 lbs
Insulated or Non-insulated
Insulated
Explore Options
DEMAND VERSALIFT
Bucket trucks in the Sign, Light and Traffic Signal Maintenance Industry
Bucket trucks are important to those organizations that maintain lighting, signage and traffic signals. These organizations range from private to municipal, and responsibilities and job requirements change dramatically from day to day.  Because lighting, signage and traffic signals are almost exclusively overhead, the bucket trucks that maintain them can be found throughout big cities and small towns, in bedroom communities and business districts. Bucket trucks are perhaps the most important tools for making sure that the men and women who maintain them can do their jobs effectively and efficiently. More than 30 years ago, Versalift invented the Articulated Telescopic Bucket Truck, which has become a popular tool for traffic signal maintenance, and it has continued to deliver the safest, most reliable and highest quality bucket trucks to its customers in the light, sign and traffic signal industry.
Versalift Customer Support
With a family of distribution, parts and service centers, Versalift is dedicated to helping our customers in the light, sign and traffic maintenance industry to keep their trucks on the road. Versalift has earned its strong reputation for service and quality.
Versalift supports hundreds of light, sign and traffic maintenance fleets around the world. Whenever you are working with electrical power, it is fundamentally important that you are confident in your equipment, and this is doubly true when you aren't sure what your tasks will be and at what heights your linemen will need to be working. If you are responsible for maintaining lights and lighted signs and signals, Versalift's high-quality, safe and reliable catalog of bucket trucks is essential to your future success.
Versalift Equipment for Signage, Lighting & Traffic Signals
Choose from a huge variety of Versalift aerial lifts, from van-mounted, 29' lifts to articulated telescopic VSTs with material handling capabilities, reaching 108'.
Versalift aerial lifts are designed to work as part of your team
Each Versalift aerial lift is delivered with the configuration, warranty and parts support that our customers require. We are committed to keeping our customers' fleets in service and functioning with as little downtime as possible.
At Versalift, we work directly with fleet managers to design custom solutions that provide the required tools, controls and configurations.
Choose from a variety of Versalift insulated and non-insulated aerial lifts, each of which is built specifically for the Signage, Lighting and Traffic Signal Industries. Customizations support fleet managers to be fully confident in their equipment and the safety of their employees.
At Versalift, every insulated aerial lift is designed to exceed the dielectric requirements of ANSI and OSHA.
Less Downtime, Faster Response, More Profitable
Your Versalift will spend more time at work
Your Versalift bucket truck has the configuration, warranty and parts support that reflect our commitment to keeping our Sign, Light & Traffic customers' fleets on the road, and functioning with as little downtime as absolutely necessary.
Our insulated aerial lifts provide Sign, Light and Traffic maintenance fleet managers with the tools they need to safely maximize the capability and efficiency of their fleets. This means less downtime, faster fleet response and greater profitability.
UNIQUE VERSALIFT FEATURES
The culture of innovation and quality at Versalift powers our passion to be the best.
ElectroGuard - Provides a 42" dielectric gap in the Versalift boom, which is more than double the gap of our competitors
TruGuard 2.0™ - Versalift's newly redesigned upper control isolating system provides another level of protection to linemen working in an aerial lift from phase-to-phase electrical contact
Non-lub Lift Bearings - Non-Lub lift bearings require little to no maintenance and are designed to last the life of the truck
No Mandatory Tear-downs - Versalift bucket trucks are engineered to the highest standard of quality so that they last safely and reliably
About Versalift
As the industry quality leader in bucket trucks, Versalift also manufacturers aerial devices, digger derricks and other specialty equipment for power generation, transmission and distribution, investor-owned utility, telecommunication, light & sign, and tree care industries. Working with co-ops, municipalities, government agencies and corporations through its global network of facilities and family of distributors, the company manufactures, sells and services bucket trucks in North America, South America, and Europe and employs nearly 700 associates worldwide. For further information about telescopic articulated bucket trucks please contact us at sales@versalift.com.