Bucket Trucks with the
Lowest True Cost of Ownership
Bucket trucks contain a customized aerial device that is important to essential infrastructure industries. Because so much of the power grid is connected through overhead means, and it must be managed and maintained, aerial lifts are essential to both the Power Distribution and Power Transmission Industries. Nearly every home and business in the United States is connected to the power grid, and so bucket trucks can be found throughout big cities and small towns, in suburban communities and in business districts. Across Europe, these aerial devices are known as MEWPs, Mobile Elevated Work Platforms.
Bucket Trucks Near Me – Find a bucket truck to buy or rent close to your location
Bucket trucks are crucial to electric utilities and they are equally important to the telecommunications industry. A majority of non-mobile telecom data is transferred via overhead cabling. As a result, aerial lifts play a crucial role in the maintenance and servicing of the telecommunications network.
5G Aerial Lift Whitepaper and information on how our bucket trucks are being used to change telecommunication infrastructure.
See Versalift at this years UTILITY EXPO
Bucket trucks support the important work of Municipalities, Public Works and State Departments of Transportation in the service and maintenance of highway lighting, traffic signals and signage. Additionally, tree care companies, public parks departments and forest services need bucket trucks to care for and maintain trees on public and private lands.
Aerial lifts have been the focus of Versalift in its effort to continue to innovate its engineering and manufacturing processes, and the company has continued to deliver the safest, most reliable and highest quality bucket trucks to its customers, in a variety of industries, for more than 50 years. If you are responsible for a fleet that maintains electrical power distribution or transmission lines, telecommunication lines, lighting, signage and traffic signals, or forests and parks, Versalift's high-quality, safe and reliable catalog of bucket trucks is essential to your future success.
Ready to Go Bucket Trucks – soon to be available utility trucks to build, support, and maintain utility infrastructure.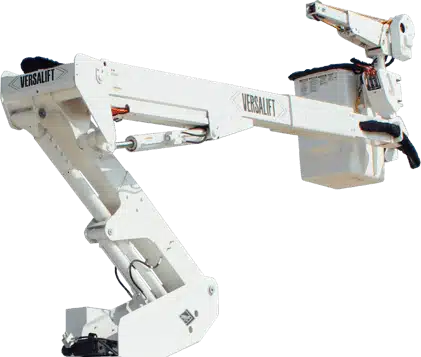 Aerial lifts, digger derricks and cable placers for the Electric Power Transmission and Distribution, Telecommunications, Tree Care, Sign and Lighting Industries.
Explore Options
The SlopeMax bucket truck safety system reduces the risk of an aerial lift overturn scenario. Aerial lift operators face danger in hilly and mountainous areas or on jobsites with slopes exceeding 5 degrees. In those conditions, booms can bounce dangerously, rotation bearings and gears can be damaged or worse: the equipment can overturn.
SlopeMax uses multiple omnidirectional sensors to compare base slope and lower boom angles relative to horizontal before the boom is deployed. For slopes under 5 degrees, booms operate normally, however when your Versalift senses slopes between 5 and 10 degrees, the SlopeMax safety system reduces horizontal reach by limiting lower boom function, and establishing a safe working envelope. SlopeMax is available on SST and VST series. Bring your lineman home safely.
Bucket truck safety is central to Truguard™, an improved version of the original, which was released in 2012 as Versalift's best-in-class proprietary upper control isolating system. TruGuard™, which provides another level of protection to linemen working in aerial lifts from phase-to-phase and phase-to-ground electrical contact, comes standard on every insulated aerial lift that is manufactured by Versalift.
TruGuard™ includes a redesigned proprietary isolation mechanism designed to create an increased isolation gap between the boom and the bucket. This safety improvement allows for durable alloy controls that stand the test of time to be used instead of using plastic controls.
Aerial lifts, Digger Derricks & Cable Placers - FIND LIFT TYPE
Bucket trucks, cable placers, digger derricks and other utility trucks are the sole focus of Versalift. Because of the variety of industries served by Versalift, there are hundreds of unique lift configurations. Geography and population density are major factors in determining the best bucket trucks for a fleet. In densely populated areas, like cities, bucket trucks need to be small and maneuverable, but still have the ability to reach as high in the air.
Elevated work platforms provide flexibility to any number of construction and maintenance projects. Our popular SST line can be equipped with articulated telescopic aerial lifts, and meet that challenge. VSTs are heavier-duty and are more powerful, and so can reach higher. Built for stability and versatility, VSTs are engineered to work in any environment. The VO line is tough, and, with its overcenter aerial lift, it has the ruggedness, side reach and power to serve the forestry and tree maintenance industry.
Aerial devices that reach well over 100 feet are a specialty in which Versalift takes some pride. Versalift's CTA, PHX, and SKY series bucket trucks are stable, powerful and able to reach as high as 217 feet. They predominantly serve the Electric Power Transmission Industry. The Transmission Aerial line of Versalift products is the industry standard for those bucket trucks that handle the biggest jobs.
Aerial lifts that put people high into the air can be dangerous. The risk associated with working at height and around electricity can be mitigated by caution, training, and the highest level of equipment. At Versalift, we believe in only the highest standards of quality in manufacturing, and we go above and beyond the norm to design, build, and deliver the safest and most reliable aerial lifts available in the industry. By continuously innovating and creating new technologies to improve work effectiveness and enhance safety, Versalift has earned its reputation for quality.
Versalift Bucket Trucks have the Fewest Recalls and Lowest Waranty Rate in the Industry
EQUIPMENT RENTALS
TRL is Time Manufacturing Company's rental unit.  The company rents Bucket Trucks, Digger Derricks, Cable Placers and other utility equipment to get you back to work fast. Nationwide, Competitive pricing.
Visit TRL RENTS
884 Corporate Drive SW Canton, OH 44706
888-867-6540 • Rental@TRLRents.com
VERSALIFT SERVICE
Bucket truck service is an essential component of ownership. Versalift equipment offers a lower true cost of ownership, and customer service has helped us grow to become a global leader in bucket truck safety, reliability and quality. Excellence in customer service continues to be both an area of distinction and point of pride.
Aerial lifts are no exception to the general truism that great service begins with excellence in manufacturing. Versalift's American-made aerial lifts go through a rigorous quality assurance process that begins with the delivery of raw materials, and ends only when customers have taken delivery of their new aerial lift after assembly, operation, and safety check.
Bucket trucks from Versalift come with a world class warranty standard that is included with every purchase. This warranty can be extended to a total of three years. Many Versalift bucket trucks are still in service after 30 years, and can be refurbished, remounted or repaired at any service location.
The Versalift Global Partner Program (VGPP)
The Versalift Global Partner Program (VGPP) empowers customers to manage everything they need to support and maintain their bucket truck from any web connection, at any time.
Order parts

Charge purchases to a fleet account via PO or credit card

Review operational or maintenance safety procedures

Connect instantly to an inside support representative

Schedule an on-site service call

Order replacement manuals
VERSALIFT GLOBAL PARTNER PROGRAM
CONTACT SERVICE DEPT – 866-543-8887
Whether you manage one truck or a fleet of hundreds, Versalift is your partner.
The Versalift Global Partner Program is a members-only website, created for customers who are responsible for managing or maintaining a fleet of bucket trucks, digger derricks and other utility vehicles. The secure system tracks technical specifications for every aerial lift and associated chassis. Today, access to the Versalift Global Partner Program is included in every purchased or leased lift.