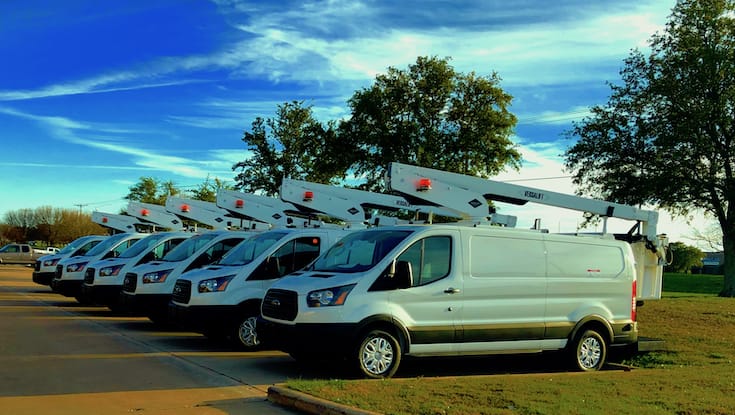 Van Mounted Aerial Lifts - Lightweight Maneuverability
Versalift was the first bucket truck manufacturer able to mount an aerial lift on a Ford Transit Van within weight specifications. Versalift equipment offers a lower true cost of ownership through smarter, more reliable design. Available as Non-Insulated Transit Van or Insulated Cut-A-Way chassis.
VAN MOUNTED AERIAL LIFTS FOR TELECOMMUNICATIONS, ELECTRIC UTILITY, SIGN & LIGHT INDUSTRIES
Versalift VANTEL units have the flexibility and capacity to be a service truck in many industries. Versalift VANTEL units have a broad set of available options, ensuring that our customers get the exact tool that their organization and people need to get the job done right the first time.
At Versalift, we are committed to delivering the highest quality, safest and most reliable aerial lifts available on the market.
Working Height
33' 8" - 35' 7"
Height to Bottom of Platform
28' 8" - 30' 7"
Horizontal Reach
20' 8" - 23' 5"
Stowed Travel Height
10' 8"
Platform Capacity
300 - 350 lbs
Insulated or Non-insulated
Non-insulated
Explore Options
VERSALIFT - MANEUVERABILITY, CAPACITY AND FLEXIBILITY
Van mounted units offer the most attractive features and benefits for regular use and maintenance applications in the telecommunications and cable television business. Versalift delivers the safest and most reliable aerial lifts available on the market today. The company, which is known for its innovation, advanced materials and manufacturing processes, is first to market with a lightweight Van-mounted Aerial Lift on a low cost, highly effective Ford Transit Chassis. Versalift van-mounted aerial lift units, loaded with equipment, tools and two operators, easily stay under important weight thresholds, and this takes a lot of regulatory pressure off of a telecommunications service fleet.
Lighter vehicles provide value to fleet managers in that they reduce the restriction/ requirements needed for operation, as well as provide safe and approved upfits that meet or exceed chassis manufacturer recommendations.
VANTEL-29 – Versatility At Its Best
Versalift VANTEL 29 van-mounted aerial lifts are highly maneuverable and perfect for accessing overhead lines in suburban and urban environments. Technicians can work all day from these versatile units, serving densely populated neighborhoods. Side streets and alleys are more accessible in a VANTEL-29, which doesn't block traffic or need outriggers for stability.
VANTEL Transit 
Versalift is the first bucket truck manufacturer to mount an aerial lift on a Ford Transit van, while meeting a 9,000 lb GVWR threshold. This is an important threshold because drivers are not required to carry DOT medical certifications, which greatly reduces cost and liability. Lightweight upfitting of the VANTEL Transit includes fittings and accessories, tail shelf, interior storage, racks, shelving, lift turret and interior boom. This unit's lightweight advantage can be seen in its larger payload capacity and reduced maintenance costs.
Transit units are only available for non-insulated applications.
SELECT UNITS (NON_INSULATED)
VANTEL Transit units are only available for non-insulated applications. On the other hand, VANTEL Cut-away units are available for sale in both insulated and non-insulated models.
Insulated VANTEL Cut-aways units
Insulated VANTEL Cut-away units offer several advantages and unique features. Instead of an aluminum inner boom, insulated VANTEL Cut-away units use a fiberglass inner boom. Full pressure hydraulic upper controls allow operators smooth, featherable control over the bucket. Additionally, patented Electroguard and TruGuard® safety systems come standard on Versalift insulated VANTEL Cut-away units. Electroguard and TruGuard® combine to offer the safest telescopic insulated aerial devices on the market, at any height or position, including fully retracted.
Service vehicle weight is extremely important to fleets, and it is a key differentiator for Versalift. Telecommunications fleets can experience concern over whether their overweight service vehicles are creating insurance liability. In the case of an accident or other unfortunate incident, the liability for a vehicle being over its recommended GVWR lies directly on the company that owns the vehicle. This entire situation can be avoided responsibly by choosing Versalift VANTEL units, which through smarter, lightweight design, can reduce insurance liability. Lighter equipment has the additional benefit of saving additional wear and tear on the brakes, suspension and transmission of the chassis itself.
VANTEL Cut-away
Dual rear wheels support a service frame and a 12,500 lb GVWR. The Cut-away is a heavier, more durable VANTEL unit, with several advantages. Multiple ceiling height options, significantly more payload and additional outer compartments on the service body are some of the many benefits of choosing a VANTEL Cut-away.
Cut-away units are available for both insulated and non-insulated applications.
SELECT UNITS (INSULATED)
Industries Served
The Versalift VANTEL series of telescoping bucket trucks is used in the telecommunications, electric utility, sign & light and power distribution industries
TRANSIT
Built on Ford's industry leading Transit Van Chassis, VANTEL Transit units provide fleets and contractors with the best in maneuverability, lightweight functionality, and efficiency. Since 1965, Versalift has continued to innovate to build the safest and most durable bucket trucks available in the industry. As the first aerial lift manufacturer to bring this product to market, Versalift continues its tradition of design leadership and innovation. VANTEL Transit models are available for non-insulated applications only.
CUT-AWAY
Built on  a heavier service chassis, VANTEL Cut-away units have unique benefits. Cut-away units are more durable and have a higher payload than VANTEL-Transit units. Cut-aways have the unique advantage of being available in both insulated and non-insulated models. Find a Versalift distributor to help you find the right upfit solutions, and we will work to design and build the features you need to support your priorities and deliver the tools that will help you accomplish your goals.
UNIQUE VERSALIFT FEATURES
A culture of innovation and quality at Versalift powers our passion to be the best.
TruGuard ™ - Versalift's proprietary upper control isolating system provides another level of protection to linemen working in an aeriel lift from phase-to-phase and phase-to-ground electrical contact. TruGuard 2.0™ now comes standard on every insulated Versalift bucket truck.
Non-Lub Lift Bearings - Non-lub bearings require little to no maintenance and are designed to last the life of the truck.
Torque Striping - An extra step that we take to ensure the quality of our work. All critical bolts are torque seal marked, allowing the lift operator to be more efficient, and to receive visual indication when a bolt is loose.
No Mandatory Tear-Down - Versalift bucket trucks are engineered to the highest standard of quality so that they last safely and reliably.
Dual Pin Retention - Every critical pin on the bucket truck and lift assembly has a redundant pin-set, which is then torque striped. Safety is our priority, and our redundant systems prove that.
About Versalift
Versalift, a Time Manufacturing Company is a global manufacturer of bucket trucks, digger derricks, cable placers, service bodies and other specialty equipment for power generation, transmission and distribution, electric utility, telecommunications, bridge inspection, light and sign, tree care and other fleet-supported industries. Working with co-ops, municipalities, government agencies and corporations through its global network of facilities and distributors, the company employs more than 1,400 associates worldwide.