Telescopic bucket trucks offer a versatile solution for multiple industries
Telescopic bucket trucks designed smarter for telecommunications, municipal and signage work. Versalift telescopic aerial lifts deliver a lower true cost of ownership, delivering the most payload for their working height.
Telescoping bucket trucks for a variety of industries
Telescopic Aerial Lift Devices by Versalift are bucket trucks with the flexibility to be used as a service truck for a variety of industries.  The broad set of available options that can be applied to Versalift Telescopic Bucket Trucks ensure that you will receive the exact tool that your organization and people need to get the job done right the first time.
At Versalift, our commitment to you is to deliver the highest quality, safest and most reliable telescoping bucket trucks available on the market today.
Working Height
33' 11" - 68' 11"
Height to Bottom of Platform
28' 11" - 63' 11"
Horizontal Reach
16' 7" - 31'
Stowed Travel Height
9' 9" - 11' 11"
Platform Capacity
300 - 600 lbs
Insulated or Non-insulated
Insulated
Explore Options
DEMAND VERSALIFT
Broad Range of Working Heights
Versalift offers a broad line of telescopic bucket trucks. Because these trucks have such a wide variety of uses, they are built to accommodate almost any situation imaginable. They have a wide range of working heights, from 34' to 67', and an equally broad range of horizontal reach. At the top of the working height range is the Versalift LT 62 bucket truck, which  has a 67' working height. Because the maneuverable vehicle has H-frame outriggers, it can reach it's surprising working height while occupying no more than a single parking space. Nothing in the industry can match this bucket truck's combination of reach and light weight.
Crafted with very close attention to detail
As is always the case with every Versalift telescopic bucket truck, there are numerous variations in the product line to account for our clients' preferences, no matter where they are from: different industries, companies, climates, countries, counties, cities and geographies each have separate requirements. Because each Versalift telescoping bucket truck is crafted with very close attention to detail, you should expect the same levels of safety, quality and reliability in your customizations as you have come to expect of us.
Industries Served
Versalift telescopic bucket trucks are used in the telecommunications, electric utility, sign & light and power distribution industries
VERSALIFT OPTIONS & CONFIGURATIONS
Our telescopic aerial lifts are built in the United States. Since 1965, Versalift has continued to innovate in order to build the safest and most durable bucket truck available in the industry.
Our sales team will help you find the right solution, and we will work to design and build the features you need to support your priorities and deliver the tool that will help you accomplish your goals.
We never stop looking for innovations to improve the reliability, safety and ease of use of our aerial lifts.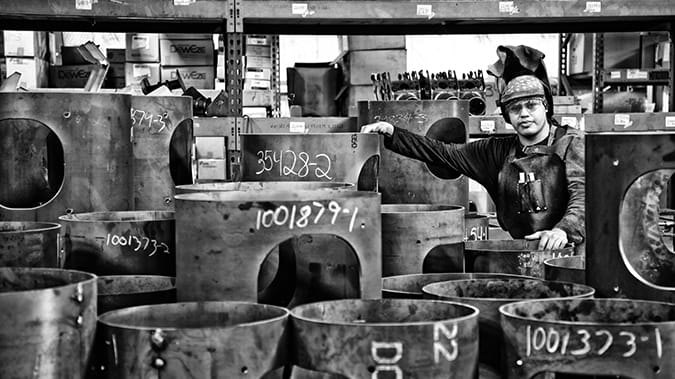 WORLD'S FIRST ARTICULATED TELESCOPIC AERIAL DEVICE - 1980
A lot has changed since we built our first aerial lift. But one thing that has not is our approach. We build every Versalift to last, it is not unusual to see a 30 year old Versalift Bucket Truck being used daily!
UNIQUE VERSALIFT FEATURES
A culture of innovation and quality at Versalift powers our passion to be the best.
TruGuard™ - Versalift's proprietary upper control isolating system provides another level of protection to linemen working in an aeriel lift from phase-to-phase and phase-to-ground electrical contact. TruGuard™ now comes standard on every insulated Versalift bucket truck.
Non-Lub Lift Bearings - Non-lub bearings require little to no maintenance and are designed to last the life of the truck.
Torque Striping - An extra step that we take to ensure the quality of our work. All critical bolts are torque seal marked, allowing the lift operator to be more efficient, and to receive visual indication when a bolt is loose.
No Mandatory Tear-Down - Versalift bucket trucks are engineered to the highest standard of quality so that they last safely and reliably.
Dual Pin Retention - Every critical pin on the bucket truck and lift assembly has a redundant pin-set, which is then torque striped. Safety is our priority, and our redundant systems prove that.
About Versalift
As the industry quality leader in bucket trucks, Versalift also manufacturers aerial devices, digger derricks and other specialty equipment for power generation, transmission and distribution, investor-owned utility, telecommunication, light & sign, and tree care industries. Working with co-ops, municipalities, government agencies and corporations through its global network of facilities and family of distributors, the company manufactures, sells and services bucket trucks in North America, South America, and Europe and employs nearly 1400 associates worldwide. For further information about telescopic articulated bucket trucks please contact us at sales@versalift.com.