High-Reach Bucket Trucks for Electrical Transmission
CTA transmission aerials for the safe and reliable management of electrical transmission networks.
World Class Power - CTA Transmission Aerial Lifts
At Versalift, the CTA line of transmission aerial lifts is specifically designed to be a highly stable, very powerful and reliable service vehicle for any fleet working in the electric power transmission industry. Since its founding in 1965, Versalift has been an innovator in the development of aerial lifts, and the company has partnered with many of the world's largest electric power transmission organizations.
CTA is the industry's most iconic high-reach aerial platform brand.
CTA AERIAL LIFT - HIGHLIGHTS
Working Height
103' 6" to 201' 6"
Height to Bottom of Platform
98' 6" to 196' 6"
Horizontal Reach
50' to 68' 6" at 51' 6" | 50' to 60' 11" at 136' 7"
Stowed Travel Height
13' 6"
Platform Capacity
800 - 1,000 lbs
Platform Rotation
Continuous
Insulated or Non-insulated
Insulated
Explore Options
DEMAND VERSALIFT
CTA and the Electric Power Transmission Industry
Versalift offers a unique set of CTA Transmission bucket trucks. Because these aerial lifts reach so high, they are engineered for incredible stability, with a full complement of redundant safety features and insulated controls. They have a wide range of working heights, and can reach as high as 209'. The CTA series of transmission  bucket trucks has a horizontal reach range of up to 81'.
The global electric power transmission industry faces several challenges. New, renewable sources of electric power, growing demand from end users, and significant investment in upgrading existing aging power transmission infrastructure are some major hurdles. One North American Electrical Power Industry Association has reported that new investment in American electrical transmission infrastructure will exceed $50 billion by 2025. That accounts for investments of more than $6 billion per year, over the next eight years. With pressure on electrical transmission companies to improve efficiency and lower costs, fleet managers need to make sure they purchase or lease the aerial lifts that will help their organizations continue to safely do just that, while prioritizing operator safety and equipment reliability.
Bucket Trucks by Versalift are designed to work as part of your team
Aerial lifts by Versalift are delivered with the configuration, warranty and parts support that guarantee the lowest cost of ownership. Choose CTA, a powerful aerial device built specifically for the Electrical Power Transmission Industry. Your Versalift bucket truck has the configuration, warranty and parts support that reflect our commitment to keeping our Electrical Power Transmission Customers' fleets on the road, and functioning with as little downtime as absolutely necessary.
Investor owned utilities, publicly owned utilities and other organizations must ensure the safety of their people. Because electricity is dangerous, it is crucial that decision makers choose the safest equipment available to them. At Versalift, safety is the highest priority. The experienced team of experts at Versalift deliver the highest quality tools, which will ensure that customers and their people safely get their specific jobs done right.
CTA lifts are designed and manufactured by Versalift a division of Time Manufacturing Company in Waco, Texas where two state-of-the-art manufacturing facilities, with over 300,000 square feet under roof, comprise one of the premier factories of its kind in the world. Through vertical integration we monitor and maintain the quality of all products from the initial purchase of steel all the way through final testing.
CTA expanding global reach and leadership is supported by over 50 years of experience in the aerial lift industry, Time continues to adapt to changing markets, across the globe, with a clear commitment to quality through unequaled innovative design and manufacturing.
CTA is a trusted name in the transmission aerial business and through the leadership from Versalift we have been imparting continual improvement, innovations in reliability, and improvements to design for many years.  Operator count on the CTA line for working envelopes between 104′ and 210′.  Both insulated and non-insulated versions are available.
Industries Served
CTA Transmission Aerial lifts are used in the electric power transmission industry.
VERSALIFT CUSTOMIZATIONS
There are numerous customizations and variations in the Versalift product line, and CTA is no exception. These variations account for our clients' preferences. Because each Versalift CTA transmission bucket truck is built by hand, and crafted with very close attention to detail, you can expect a safe, high quality and reliable aerial lift, built to your specifications and with your required customizations.
Every detail is important when it comes to ensuring the safety, ease of use, and reliability of our aerial lifts.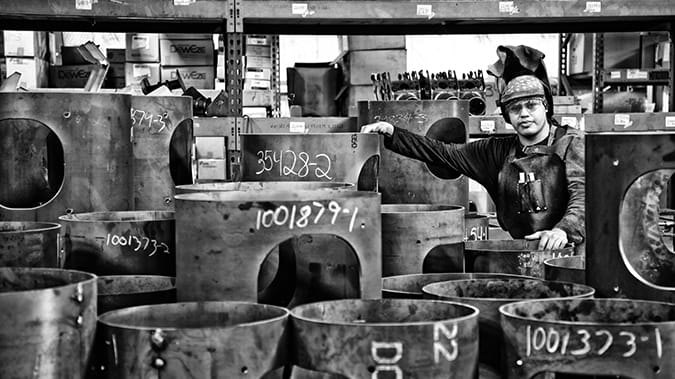 WORLD'S FIRST ARTICULATED TELESCOPIC AERIAL DEVICE - 1980
A lot has changed since we built our first aerial lift in 1965. But one thing that has not is our approach. We build every Versalift to last, and it is not out of the question to see a 30 year old CTA being used daily.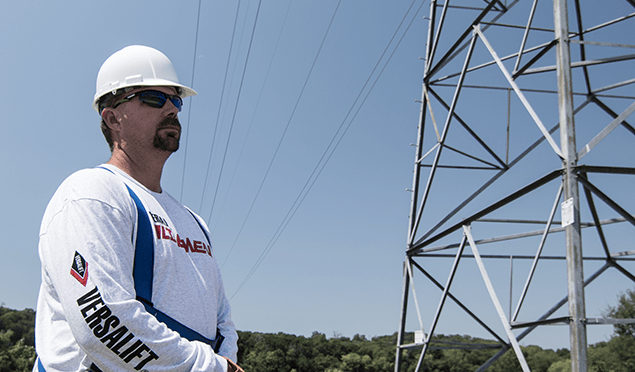 CTA FEATURES
Continuous Rotation - 360° continuous rotation, unrestricted in either direction.
Non-lube Lift Bearings - Non-lube bearings require little to no maintenance and are designed to last the life of the truck.
Dual Telescoping Booms - Both the upper and lower booms are two-section telescoping, and have insulated inner boom sections.
About Versalift
As the industry quality leader in bucket trucks, Versalift also manufacturers aerial devices, digger derricks and other specialty equipment for power generation, transmission and distribution, investor-owned utility, telecommunication, light & sign, and tree care industries. Working with co-ops, municipalities, government agencies and corporations through its global network of facilities and family of distributors, the company manufactures, sells and services bucket trucks in North America, South America, and Europe and employs nearly 700 associates worldwide. For further information about telescopic articulated bucket trucks please contact us at sales@versalift.com.
Insulated or Non-insulated:

Insulated or Non-insulated: