Aerial Lifts For Electric Utility Transmission Applications
High Reach Aerial Lifts - CTA units are available in working heights of 104' and 130'. Engineered for incredible stability, these units offer a robust working envelope, platform capacity of 2,200 lbs and full complement of redundant safety features.
Aerial Lifts - High Reach Workhorse Units
Aerial lifts manufactured for electric utility transmission construction and maintenance include the iconic CTA line. CTA aerial lifts are built to be reliable and safe, while providing consistent, stable access to a large working envelope. Available as both insulated and non-insulated, CTA aerial lifts feature multiple outrigger configurations, making them more efficient to set up.
CTA - Iconic High Reach Aerial Lifts For The Construction, Inspection & Maintenance Of Electric Power Infrastructure
CTA AERIAL LIFT - HIGHLIGHTS
Working Height
103' 6" to 129'
Height to Bottom of Platform
98' 6" to 124'
Stowed Travel Height
13' 6"
Platform Capacity
2,200 lbs
Platform Rotation
Continuous
Insulated or Non-insulated
Insulated
Explore Options
AERIAL LIFTS BUILT TO SERVE THE ELECTRIC POWER TRANSMISSION INDUSTRY
Aerial Lifts Built To Serve The Electric Power Transmission Industry 
Aerial lifts that are designed by Versalift for high reach applications include the CTA-104 and CTA-130. Versalift specifically supports the Electric Power Transmission with insulated CTA high access aerial lifts. Available for purchase as both insulated and non-insulated, CTA 104 and CTA-130 offer utility and construction fleets increased levels of productivity in several ways, superior reach, ease of maintenance (with the fewest possible number of lubrication points), industry leading flexibility and innovative systems design.  
Aerial Lift Versatility – Working Envelope, Safety Features, In-Person Training
Aerial lifts that are relied upon for Electric Power Transmission, Construction and Bridge Inspection capacities are more valuable when they are more versatile. Linemen, engineers and technicians tend to value flexibility in the high reach aerial lifts they operate, putting safety first and always having immediate access to equipment controls. In the case of the CTA-130-I, there is a 135" insulation gap in the upper boom. A Versalift engineer attends the delivery of new high reach CTA aerial lifts, providing hands-on training and classroom learning time to technicians. Ongoing training is always available to valued Versalift customers. 
Aerial Lift Technology For High Reach Applications
Versalift high reach aerial work platforms feature operator displays at both the upper and the lower controls. These operator displays provide the operator with current status and additional operator guidance when it is necessary. Both the CTA-104 and CTA-130 are available as insulated or non-insulated. CTA aerial lifts utilize proven and tested wireless technology that eliminates any requirement for fiber optic conductors in insulated units. Our high reach aerial lifts incorporate innovative technologies to enable smooth and consistent operation in a variety of weather conditions, without the need for re-adjustment.
CTA aerial lifts have an exceptional working envelope, which eliminates the need for multiple worksite set ups and improves overall productivity.
PHX – Heavy Duty Transmission Aerial Lifts – For electric utility transmission and other high reach tasks that require more than 130' of working height, customers look to the PHX line of heavy duty transmission aerial lifts. Versalift PHX-150 and PHX-180 are available as insulated and non-insulated high reach work platforms. PHX units provide technicians versatility and efficiency, with a generous working envelope, industry-leading side reach, material handling capacity and unrestricted jib capacity. PHX high reach aerial lifts provide industry leading side reach at full capacity.  Go to PHX page.
CTA-104 is a high reach work platform with a working height of 104'3" and a horizontal reach of 49'8" and is available as insulated (CTA-104-I) or non-insulated (CTA-104-S). This unit has unique stability features and has a maximum platform capacity of 2,200 lbs.
CTA-130 is a high reach workhorse with a working height of 129'3" and a horizontal reach of 50', and is available as insulated (CTA-130-I) or as non-insulated (CTA-130-S). With unique short jacking outriggers, this bucket truck has a maximum platform capacity of 2,200 lbs.
Aerial Lifts for High Access Applications – Versalift CTA Workhorse Aerial Lifts
Bucket truck features available on Versalift high access aerial lifts include the following:
Highest Unrestricted Material Handling Capacity –

Versalift CTA units have the highest unrestricted material handling capacity in the North American market. With the longest hydraulic jib extension in the industry, Versalift CTA units offer true proportional control. Featuring 2,200 lbs of combined platform and 1,500 lbs of jib capacity, and an unrestricted working envelope.

Highest Platform Capacity –

With the highest platform capacity in the North American market, Versalift CTA aerial lifts are available for purchase with multiple platform configurations. The engineers at Versalift designed our CTA units to rotate a full 180° without restrictions.

Multiple Outrigger Configurations

– CTA aerial lifts are engineered to function using a variety of outrigger configurations, which allows fleets to conduct high reach aerial operation in space-constrained locations. Versalift CTA aerial lifts feature industry leading outrigger jack ground penetration and reduce cribbing requirements that would be expected in rough terrain.

Continuous Rotation

– CTA high reach aerial work platforms are capable of 360° continuous rotation, which gives technicians unrestricted access in any direction. This unit offers significant ease-of-access to high reach work sites required daily in the Electric Power Transmission industry. 

Non-lube Lift Bearings

– Non-lube bearings require less maintenance, and they are designed to last the useful life of the aerial lift. Versalift engineers have designed CTA aerial lifts with the minimum possible number of lubrication points. Fewer lube points allows for easier maintenance.

Dual Telescoping Booms

– Both upper and lower booms are telescoping, with insulated inner boom sections. For example, the CTA-130-I has a 135" insulation gap in its upper boom.

On Board Diagnostics & Wireless Controls

 – Bucket truck diagnostics are available at the upper and lower controls, with text display. CTA units feature highly reliable wireless controls and communications, from platform to ground, with no fiber optics.
Industries Served
CTA Transmission Aerial Lifts are used in support of infrastructure construction and inspection, as well as regular use in the electric power transmission industry.
CTA - ICONIC TRANSMISSION AERIAL LIFTS
Aerial lifts like the CTA earn their reputation for reliability and safety over time. CTA transmission aerial lifts were originally called Condor Transmission Aerials. Versalift proudly offers CTA units at two working heights, and in both insulated and non-insulated versions. Renowned for their stability and reliability, CTA high reach aerial lifts support the important work of electric utility transmission infrastructure maintenance and construction.
The global electric power transmission industry faces several challenges, including developing renewable sources of electric power, addressing growing demand from more end users, and making significant investments in improving existing electric power transmission infrastructure.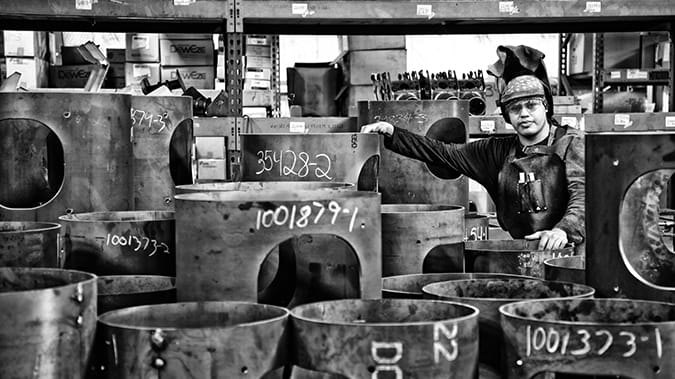 WORLD'S FIRST ARTICULATED TELESCOPIC AERIAL DEVICE - 1980
A lot has changed since we built our first aerial lift in 1965. But one thing that has not is our approach. We build every Versalift to last, and it is not out of the question to see a 30 year old CTA being used daily.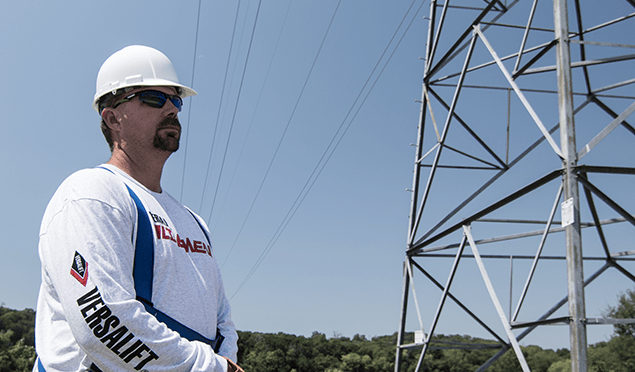 UNIQUE VERSALIFT FEATURES - CTA HIGH REACH AERIAL LIFTS
Lower True Cost of Ownership - Engineered to the highest standards of quality, our bucket trucks, high reach units and digger derricks feature smarter, more reliable design for a lower true cost of ownership.
Full Service Provider - With more than 250 service locations in North America, rental fleet coverage and competitive equipment financing, Versalift distributors deliver a complete fleet solution.
Ease of Maintenance - Versalift equipment spends more time in service, and less time in the shop. Non-Lube lift bearings require less maintenance, and are designed to last the practical life of the truck. Versalift aerial lifts have no mandatory tear-downs.
Attention to Detail - Torque striping is an extra step taken to ensure the quality of your equipment. All critical bolts are torque seal marked, which allows lift operators to efficiently conduct daily visual inspections. Additionally, every critical pin on the bucket truck and lift assembly has a redundant pin-set, which is then torque striped.
About Versalift, A Time Manufacturing Company
Versalift is an industry leading manufacturer of bucket trucks, aerial devices, digger derricks, cable placers, high reach aerials, van-mounted aerials and other specialty equipment for the electric power generation, utility transmission and distribution,  telecommunication, light & sign, bridge inspection and tree care industries. Working with investor-owned utility companies, rural electric cooperatives, municipalities, government agencies and fleet organizations through its global network of facilities and family of distributors, Versalift is a Time Manufacturing Company. Time Manufacturing Company goes to market under the Versalift, BrandFX, Aspen Aerials, Ruthmann, Steiger, EcoLine and BlueLift brands, with manufacturing, distribution and service networks across North America, and around the world. The company employs more than 2,000 associates worldwide. For further information please contact us.