Aerial lifts in Mississippi
Versalift Aerial Lifts Support Key Industries in Mississippi
Aerial lifts are essential to the transportation infrastructure, data systems and electric power grid of Mississippi. Aerial lifts also provide a reliable and efficient way to service and maintain wind turbines, a growing industry across the region. Forestry and logging applications for vehicle-mounted aerial lifts are numerous, and Mississippi woodlands need equipment that is outfitted to handle the state's unique geography. The Mississippi Department of Transportation is primarily responsible for the state and country highways that traverse the state. Keeping the roadways and streets lit, traffic signals functioning and roadways well marked requires the use of aerial lifts. 
Distributors for Mississippi
Aerial Lifts and Electric Power in Mississippi
Aerial lifts that are used to maintain the electric power grid are in regular use in Mississippi. Investor-owned utilities and rural electric cooperatives serve the state's population. Generally, the IOUs operate in more dense urban and suburban areas, while RECs operate in rural areas. Rural electric Cooperatives have the advantage of being member-owned, which results in very inexpensive power. Aerial lifts are helping Mississippi organizations face the challenge of new sources of renewable energy. Solar and wind are changing the way that utility companies are operating.
A brief list of some electric utility providers in Mississippi:
View Lifts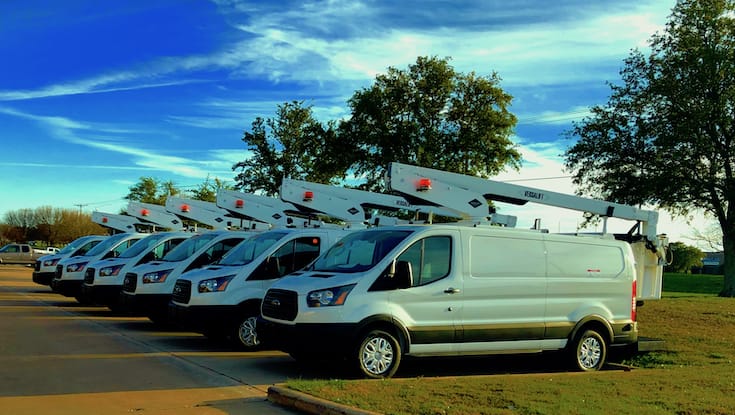 Telecommunications Construction & Maintenance in Mississippi
Aerial lifts are in regular use, servicing telecommunications networks across Mississippi, where providers are competing for a share of the state's growing demand for high quality data services. Aerial lifts that are used by these telecommunications and cable TV fleets are deployed to maintain thousands of miles of data cable, and the millions of connection points that make up the state's overhead telecommunications network. There are more than 100 telecommunications providers in Mississippi. A short list of them:
Aerial Lifts and their applications for Forestry in Mississippi
Aerial lifts that support Mississippi forestry and forest products industries are an important piece of managing the state's wild spaces. Greater than 60% of Mississippi is forested, and the majority of that forest is owned by private, non-industrial organizations. With that said, Mississippi's forest products industry is very influential, generating approximately $15 billion in revenue for the state each year.
Forestry bucket trucks are available to fleets that work in logging, forest management and other heavy duty applications at https://versalift.com/bucket-truck/industries/forestry-tree-care/
Aerial lifts for Bridge Inspection in Mississippi
Aerial lifts for bridge inspection are crucial to public safety in Mississippi. There are approximately 10,000 bridges in the state. The Federal Department of Transportation requires updates on a bi-yearly basis, requiring the state to assign bridge inspection tasks to companies and contractors licensed for bridge inspection in Mississippi.
To learn about North America's leader in bridge inspection equipment, visit Aspen Aerials at https://aspenaerials.com.
Mississippi General Information
With a population of three million people, Mississippi is located along the Mississippi River and the Gulf of Mexico. Jackson is the capital city of Mississippi and is located on the Pearl River, at the center of the state. Jackson is the anchor of the Jackson MSA, population 600,000, which is the largest metropolitan area in the state. Many folk, gospel, soul and blues entertainers come from Jackson, which has given it the nickname of 'The City of Soul.' Gulfport is the state's second largest community, after Jackson. Gulfport has a strong shipbuilding industry, and is closely tied to the US Air Force. Biloxi is officially home to Keesler Aer Force Base. Home to several casinos, Biloxi has a beautiful coast and a strong tourism economy.
Tourist attractions the Tupelo Automobile Museum, the Gulf Islands National Seashore and the Elvis Presley Birthplace and museum. Adventurers enjoy Holly Springs National Forest, Tombigbee National Forest and De Soto National Forest.
Notes on Aerial Lift Safety from the United States Department of Labor
Mississippi Aerial Lift Safety
Mississippi Aerial Lift Safety is highly visible due to population density and the number of roads in the state. All safety codes are strictly enforced throughout the state, and are written to be in alignment with the United States Department of Labor's OSHA regulations on Aerial Lift Safety.
You can find the OSHA Aerial lift factsheet here.