Aerial lifts in Montana
Aerial lifts support key Montana industries
Aerial lifts are critically important to the transportation infrastructure, data information systems and electric power grid of Montana. Additionally, aerial lifts offer an inexpensive and safe way to deliver necessary service and maintenance to wind turbines, which are part of a burgeoning industry in the state. Forestry, logging and other land management applications are very common in Montana, and the state's massive forests require vehicle mounted aerial lifts and other forestry equipment that are outfitted to handle the unique challenges that they present. While Montana is not hugely populous, it has thousands of miles of roadways with signage, signals and lighting that must be maintained. Municipal and state transportation fleets accomplish these goals with aerial lifts as well.
Electric Power and Utility Industry in Montana
Aerial lifts support the work of all the electric utility providers in Montana. Both private utilities and member-owned cooperatives provide electric power to the people and businesses who live and operate in the state. Montana is in a unique situation, because it holds one of eight energy converter stations in the country and connects the western and eastern electrical grids. Additionally, Montana is a huge coal reserve state holding approximately one third of the US total coal reserve. Energy is an important resource to the state of Montana, and aerial lifts support the organizations that keep the lights on. 
Below is a list of Investor Owned Utility Companies and Electric Cooperatives operating in Montana:
View Lifts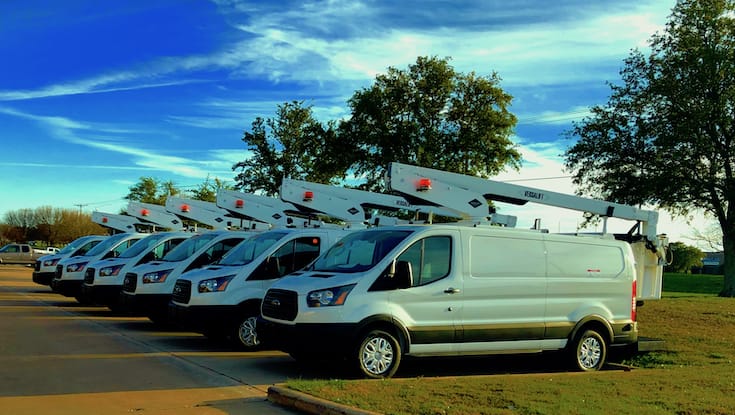 Telecommunications Construction & Maintenance in Montana
Aerial lifts are daily equipment for telecommunications technicians. Versalift van-mounted aerial lifts deliver the lightest weight vehicles with the greatest payload in their peer group, while providing a 29' working height. The advantage of plenty of storage, payload and vertical reach makes equipment like this a tremendous value for fleets that service overhead telecommunications plant
There is plenty of room in the market for telecommunications providers. Nearly half of the state has a single option for wired telecommunications service. Below is a list of Montana Telecommunications & CATV Providers:
View Lifts
Aerial Lifts and their applications for Forestry in Montana
Aerial lifts that support the forestry, logging and other land management efforts in Montana are important to managing and maintaining the state's wild places. With more than five million acres of forest in the state, seventy percent is owned privately. There are a number of National Parks in Montana, many of which are heavily forested. Forestry aerial lifts by Versalift are built to spec and delivered with the safest and most reliable aerial lifts available on the market.
Aerial lifts for Bridge Inspection in Montana
Aerial lifts for bridge inspection do the work of safely conveying bridge inspection experts above, alongside and beneath the bridges that must be inspected. The Montana Department of Transportation's Bridge Bureau division oversees the care and maintenance of all bridges in Montana. The bureau provides skilled expertise and technical support to any agency that may need to use the bridges. The Federal Department of Transportation requires that each state submit a biannual report on the state of its bridges. Montana is no different, and so it must commit to inspecting the 3,000 bridges in its purview. 
Learn about North America's leader in bridge inspection equipment at https://aspenaerials.com.
Montana General Information
With a population of approximately one million people, Montana is one of the least populated states in the country. Montana is the only state that doesn't border a state in which there is a city of a million people. Helena is the state capital of Montana, but the three most heavily populated cities in the state are University towns. Billings, Missoula and Bozeman have economies that are powered by University jobs, students and the resulting markets. Because it is such a beautiful place to live, it is a highly prized destination for tourists during the summer months. Wage growth has been very steady in recent years. The biggest single contributor to fiscal growth in the state in recent years has been health care.
Notes on Aerial Lift Safety from the United States Department of Labor
Montana Aerial Lift Safety
Montana Aerial Lift Safety is highly visible due to population density and the number of roads in the state. All safety codes are strictly enforced throughout the state, and are written to be in alignment with the United States Department of Labor's OSHA regulations on Aerial Lift Safety.
You can find the OSHA Aerial lift factsheet here.