Aerial lifts in Tennessee
Versalift Aerial Lifts Support Key Industries across Tennessee
Aerial lifts perform functions that make life pleasant and productive for the people of Tennessee. Aerial lifts are used to maintain overhead networks of electric power cables and telecommunications cable. Additionally, specially equipped versions of these vehicle-mounted aerial lifts are used in forestry, bridge inspection, sign and traffic light maintenance and wind turbine maintenance. The state of Tennessee has a large population of greater than six and a half million people who live in cities, towns, rural communities and suburbs. Tennessee has four cities with a core population of approximately 200,000 people, while the Nashville MSA boasts a population of well over a million. Aerial lifts serve the entire population of Tennessee, whose demand for electric power and the free flow of data and information powers their success.
Distributors for Tennessee
Electric Power and Utility Industry in Tennessee
Aerial lifts that are designed and built to manage or maintain electric utility infrastructure are available to fleet organizations such as Investor-Owned Utilities and Rural Electric Cooperatives in the state of Tennessee. The Tennessee Valley Authority is the country's largest public power company. It owns more than 90% of Tennessee's electric generation capacity. Ethanol is a major fuel output for Tennessee, more so there than anywhere else in the American southeast. Versalift insulated aerial lifts offer an additional layer of protection to linemen at the platform, and are the safest and most reliable aerial lifts on the market.
Below is a short list of some organizations that provide electric power to consumers in:
View Lifts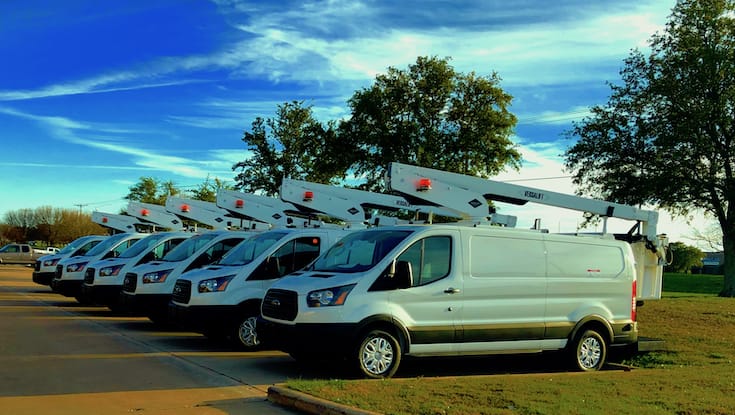 Aerial Lifts and Tennessee Electric Utility Providers
Aerial lifts are necessary equipment for technicians in who support telecommunications and cable TV service in Tennessee. The unique set of requirements for telecommunications vehicles include plenty of payload capacity, equipment storage, maneuverability and a significant working envelope.  Versalift van-mounted aerial lifts deliver the lightest weight vehicles with the greatest payload in their peer group, while providing a 29' working height to ensure that technicians can reach their work. In Tennessee, there are currently 186 internet providers, which is a large number, especially considering that one in eight people in Tennessee is underserved for internet access and availability. 
Below is a short list of some telecommunications providers in Tennessee: 
View Lifts
Aerial Lifts and their applications for Forestry in Tennessee
Aerial lifts that are built to conduct forestry and vegetation management tasks must be durable and dependable in rugged environments. The Department of Agriculture's forest division is responsible for administrating the forest resources of the state, and focuses on energy saving and stormwater reduction as well as insect and disease management to promote a healthy forest environment. There are several fleet and contractor organizations in Tennessee that perform logging, forestry and vegetation management tasks, using vehicle-mounted aerial lifts. There are more than 14 million acres of forests in Tennessee, which draw millions of people to hunt, fish, camp and enjoy the area, and provide jobs and prosperity to thousands of people who work in the forestry and forest products industries.
Get more information on Versalift Forestry equipment.
Aerial lifts for Bridge Inspection in Tennessee
Aerial lifts that are built for bridge inspection provide a necessary contribution to public safety. Tennessee has an inventory of approximately 20,000 bridges, and it is responsible for inspecting each one every twenty four months. The state has implemented several programs to update its bridge infrastructure, and has done an effective job reducing the number of bridges with structural issues. In order to make sure that bridges get the inspection services they need, the Tennessee DoT hires bridge engineering firms and contractors licensed for bridge inspection in Tennessee. In Knoxville, the CSX Railroad Bridge crosses over the Tennessee River. The riveted truss structure is 1,051 feet in length and was built in 1966.
North America's leader in bridge inspection equipment can be found at https://aspenaerials.com.
Tennessee General Information
With a Population of just under seven million people, Tennessee is one of the more populous states in the American Southeast. Tennessee has the 4th strongest economy in the United States
The state capital of Tennessee is Nashville, which is considered by many to be the home of American Country music. Nashville is also home to several professional sports franchises and major corporations, including Ernst & Young, Deloitte, Nissan America and Tractor Supply. Memphis is the largest city on the Mississippi River, the second largest in the state, and home to several universities and companies, including FedEx.  Knoxville is the home of the University of Tennessee, Fort Knox and the Tennessee Valley Authority. Major geographical features of the state include the Appalachian Mountains and theCumberland Plateau. Interestingly, from the top-most point of the Cumberland Plateau, a person can see seven different US states. Tourist attractions in Tennessee include the Great Smoky Mountains National Park, Graceland and the Elvis Presley Memphis Complex, as well as Dollywood. Forested state parks attract campers and visitors through summer months and include Cherokee National forest and Natchez Trace State Park and Forest.
Notes on Aerial Lift Safety from the United States Department of Labor
Tennessee Aerial Lift Safety
Tennessee Aerial Lift Safety is highly visible due to population density and the number of roads in the state. All safety codes are strictly enforced throughout the state, and are written to be in alignment with the United States Department of Labor's OSHA regulations on Aerial Lift Safety.
You can find the OSHA Aerial lift factsheet here.