Aerial lifts in West Virginia
Versalift Aerial Lifts Support Key Industries in West Virginia
Aerial lifts perform functions that make life pleasant and productive for the people of West Virginia. Aerial lifts are used to maintain overhead networks of electric power cables and telecommunications cable. Additionally, in West Virginia, specially equipped versions of these vehicle-mounted aerial lifts are used in forestry, bridge inspection, sign and traffic light maintenance and wind turbine maintenance. West Virginia has a population of nearly two million people who live in a mixture of cities, towns, rural communities and suburbs. Aerial lifts serve the entire population of West Virginia, whose demand for electric power and the free flow of data and information powers their success.
Distributors for West Virginia
Electric Power and Utility Industry in West Virginia
Aerial lifts support Electric Power and Utility companies across the state of West Virginia. Private utility companies, municipal utilities and member-owned cooperatives provide electric power to consumers in the state. West Virginia is a major contributor to American energy production, ranking fifth in total energy production, which amounts to 4.5% of the national total. 11% of American coal production comes from West Virginia, which additionally has an output of 1.6 trillion cubic feet of natural gas. Vehicle mounted aerial lifts for the electric utility industry require insulation systems to protect linemen at the platform. Versalift insulated aerial lifts feature TruGuard®, the world's most advanced bucket truck safety system, which provides an additional layer of protection at the platform.
Below is a short list of some organizations that provide electric power to consumers in West Virginia:
View Lifts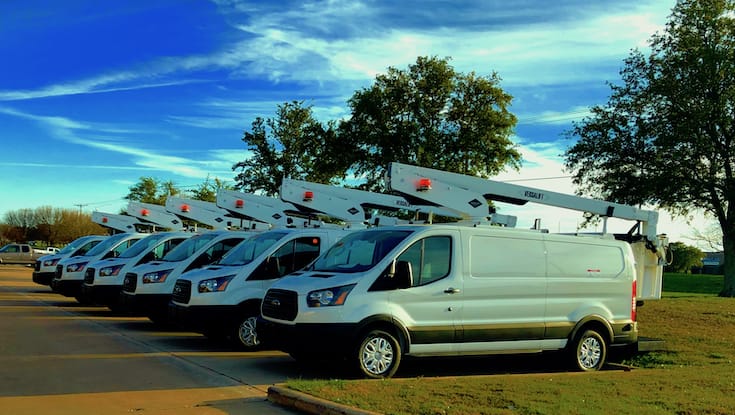 Telecommunications Construction & Maintenance in West Virginia
Aerial lifts are important to fleets and contractors that support the flow of data through overhead cable systems. Since 2011, the amount of people connected to broadband internet has more than doubled to greater than 90% coverage across the state. There are more than eighty internet providers in West Virginia. Telecommunications aerial lifts should be able to hold tools, materials and equipment, as well as merchandise, while being maneuverable and reliable, with a large working envelope. Versalift van-mounted aerial lifts deliver the lightest weight vehicles with the greatest payload in their peer group, while providing a 29' working height to ensure that technicians can reach their work.
Below is a short list of some telecommunications providers in West Virginia: 
View Lifts
Aerial Lifts and their applications for Forestry in West Virginia
Aerial lifts for logging, forestry and land management related tasks have to be tough and durable to withstand the work they do. West Virginia is the third most forested state in the USA. 78% of the state is forested. More than 30,000 people in West Virginia are employed through forestry related industries. Greater than $3 billion each year are generated through West Virginia's forestry industry. Interestingly, every county in the state of West Virginia contributes to the forestry economy.
Get more information on Versalift Forestry equipment.
Aerial lifts for Bridge Inspection in West Virginia
Aerial lifts make bridge inspection easier in West Virginia. Public safety is crucial, and every state must inspect every bridge at least once every twenty four months. The state's bridge inventory includes more than 7,000 highway or roadway bridges, and the state hires bridge engineers and contractors licensed for bridge inspection in West Virginia to inspect them. Completed in 1977, the New River Gorge Bridge, at nearly 900 feet high, is one of the most photographed landmarks in the state. Listed on the National Register of Historic Places, the bridge was chosen to represent the state on the commemorative US quarter in 2005. Now it is the site of West Virginia's biggest one-day festival, the annual "bridge Day" which features BASE jumping, rappelling and crafts.
North America's leader in bridge inspection equipment can be found at https://aspenaerials.com.
West Virginia General Information
With a Population of 1.9 million people, the majority of West Virginia is covered by the Appalachian mountains. The state capital of West Virginia is Charleston. Major employers and prominent companies are largely in the energy sector. Other major cities in the state include Morgantown and Huntington. Morgantown is the home of West Virginia University. West Virginia's mountains have hot mineral springs nestled throughout, which attracts tourism year round. Other tourist attractions include the Monongahela National Forest, Blackwater Falls State Park and Snowshoe Ski Resort, which offers year round skiing. Forest state parks where hikers and explorers flock in the summer months include Kanawha State Forest.
Notes on Aerial Lift Safety from the United States Department of Labor
West Virginia Aerial Lift Safety
West Virginia Aerial Lift Safety is highly visible due to population density and the number of roads in the state. All safety codes are strictly enforced throughout the state, and are written to be in alignment with the United States Department of Labor's OSHA regulations on Aerial Lift Safety.
You can find the OSHA Aerial lift factsheet here.