Aerial lifts in Wyoming
Versalift Aerial Lifts Support Key Industries Across Wyoming
Aerial lifts are crucial to supporting the work of important Wyoming businesses and government organizations. Because they are necessary to maintain the flow of electricity and telecommunications service, aerial lifts, and especially those that are vehicle-mounted are a common sight across the state. As is the case with much of the United States, almost all power and data infrastructure is built above the ground in Wyoming. Other common users of vehicle mounted aerial lifts in Wyoming include mining, land management, visual communications, cellular tower construction, wind turbine maintenance and a broad set of daily tasks that support safe, well-lit and clearly-marked roadways.
Aerial Lifts and the Electric Power and Utility Industry in Wyoming
Aerial lifts that support electric utility infrastructure in Wyoming look very different depending on where in the state they are. Rural areas of Wyoming are most often powered by member-owned electric cooperatives. These not-for-profit organizations provide consistent and reliable electric power, at cost, to their members. Rural electric cooperatives value reliability and durability, because their customers live further apart, and linemen have more distance to cover to perform maintenance tasks with their insulated, vehicle-mounted aerial lifts. Investor-owned utility companies that operate in Wyoming, like Pacificorp, offer their services to more densely populated, suburban and urban areas. 
Below is a short list of some organizations that provide electric power to consumers in Wyoming:
Cheyenne Light , Fuel & Power
View Lifts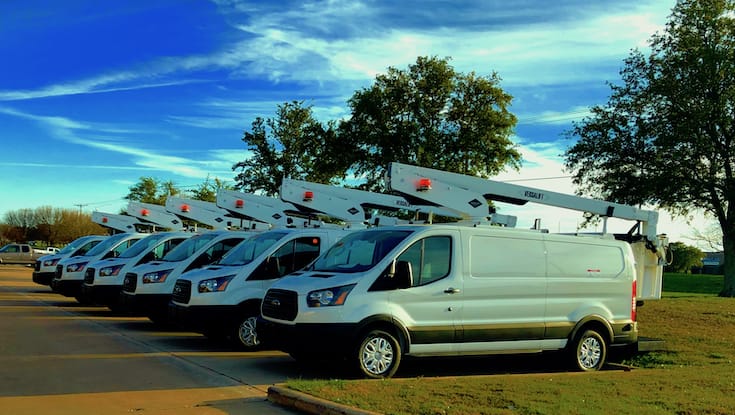 Telecommunications Construction & Maintenance in Wyoming
Aerial lifts that support consumer and business telecommunications service in Wyoming have unique needs. While all telecommunications service vehicles need payload capacity, maneuverability and a large working envelope, telecommunications service vehicles in Wyoming must be really durable and reliable. Versalift van-mounted aerial lifts deliver the lightest weight vehicles with the greatest payload in their peer group, while providing a 29' working height to ensure that technicians can reach their work.
There are 95 service providers that operate in Wyoming. Cheyenne, the state's largest city, has the most variety of service, with 15 internet providers. 76% of people in Wyoming have access to wired broadband internet, and 99.2% of people in the state have access to mobile broadband. 
Below is a short list of some telecommunications providers in Wyoming: 
Aerial Lifts and their applications for Forestry in Wyoming
Aerial lifts that are purposed for timber, forestry and vegetation management work in Wyoming must be rugged and durable. Of Wyoming's more than 62 million total acres of land, approximately ten million acres are forested. Logging and timber is not a major industry in the state, so forestry work is more heavily focused on land management responsibilities. The Wyoming State Forestry Division was formed in 1952. The division is directly responsible for 263,000 acres of forest trust lands throughout the state. The majority of forested lands in Wyoming are part of National Parks. 
Get more information on Versalift Forestry equipment.
Aerial lifts for Bridge Inspection in Wyoming
Aerial lifts for bridge inspection play an important role in Wyoming's public safety. The 3,129 bridges in Wyoming are required by Federal law to be inspected at least every twenty four months. Bridge inspection engineers and contractors who are licensed for bridge inspection in Wyoming will perform the necessary work, compiling the data and delivering reports to the state. The Platte River Bridge, which was built in 1876, crosses the North Platte River. It is one of Wyoming's oldest bridges. Canyon Bridge in Canyon Junction Yellowstone Park is famous for its scenic beauty. No longer open to cars, the bridge is only available to pedestrian traffic. Sunlight Bridge on Highway 296 is the highest bridge in the state, at 8,236 feet in length and 170 feet in height.
North America's leader in bridge inspection equipment can be found at https://aspenaerials.com.
Wyoming General Information
With a Population of under 600,000 in a state that spans nearly 100,000 miles, Wyoming averages one person for every 111 acres. Known as The Cowboy State, Wyoming actually has 12,000 farms within its borders. The state capital of Wyoming is Cheyenne, and Jackson and Casper are two additional cities in the state. Major geographical features of Wyoming include Devil's Tower, Fossil Butte, Grand Tetons and Yellowstone National Park. Interestingly, Yellowstone was the nation's first national park. All of these places have unique and beautiful landforms, and attract visitors from around the world. The highest point in Wyoming is Gannett Peak at 13,804 feet. The Hot Springs State Park in Thermopolis is a popular destination for visitors.
Notes on Aerial Lift Safety from the United States Department of Labor
Wyoming Aerial Lift Safety
Wyoming Aerial Lift Safety is highly visible due to population density and the number of roads in the state. All safety codes are strictly enforced throughout the state, and are written to be in alignment with the United States Department of Labor's OSHA regulations on Aerial Lift Safety.
You can find the OSHA Aerial lift factsheet here