Aerial Lifts in Colorado
Versalift Aerial Lifts Support Key Colorado Industries
Aerial lifts are crucial to supporting the work of important Colorado businesses and government organizations. Because they are necessary to maintain the flow of electricity and telecommunications service, aerial lifts, and especially those that are vehicle-mounted are a common sight across the state. As is the case with much of the United States, almost all power and data infrastructure is built above the ground in Colorado. Other common users of vehicle mounted aerial lifts in Colorado include mining, forestry and public space management, visual communications, cellular tower construction, wind turbine maintenance and a broad set of daily tasks that support safe and clearly market roadways.
Distributors for Colorado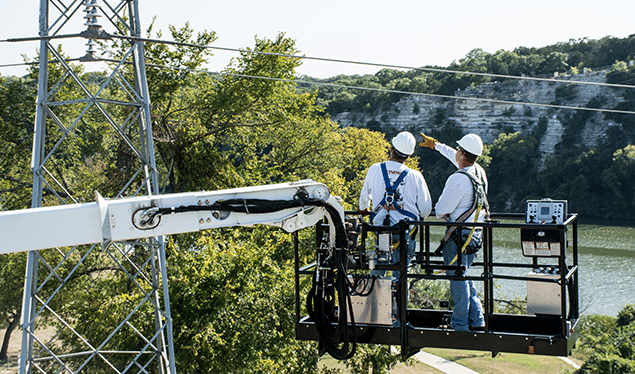 Electric Power and Utility Industry in Colorado
Colorado's electric utility industry is diverse and comprised of Investor Owned Utility companies and Rural Electric Cooperatives. Sources of electric power in Colorado are dominated by coal, which represents 50% of the electric power used by homes and businesses in the state. Greater than one quarter of all electricity generated in Colorado comes from renewable sources, including wind and solar. Aerial lifts are built by Versalift to address the needs of the electric power generation, distribution and transmission industries.
Aerial Lifts and Colorado's Utility Companies
Aerial lifts support the work of all of the investor-owned electric utility companies in Colorado. They also support the networks of Rural Electric cooperatives that exist in the state. In all cases, vehicle-mounted aerial lifts support any hotline work at all must be insulated in order to protect linemen and other people near the job site. Versalift insulated aerial lifts are the safest and most reliable vehicle mounted work platforms available to the market. Featuring the innovative TruGuard® safety system, Versalift insulated aerial lifts are the safest equipment for maintaining electric power distribution networks.
View Lifts
Aerial Lifts for Telecommunications Construction & Maintenance in Colorado
Aerial lifts built by Versalift for telecommunications fleet organizations and contractors in Colorado provide the safest and most durable equipment solution. Broadband internet, land phone lines and Cable TV are supported through overhead aerial plant which is installed to ensure consistent and inexpensive access to data services. Denver is a booming technology hub featuring several leading telecommunications providers, but the state of Colorado is very large, and the population of approximately five and a half million people in colorado is spread throughout. The push to bring broadband internet to Colorado's rural communities is led by family-owned businesses, member-owned cooperatives and rural-focused corporations, which cover about 30% of the state.
(Colorado distributor page on versalift.com)
Telecommunications and CATV companies in Colorado
Aerial lifts are constantly in use in Colorado, where there are several major telecommunications and cable television providers that perform regular maintenance work on the overhead networks of data cable that crisscross the state. As is true throughout the United States and the developed world, it is essential to basic home life and business operation in Colorado for there to be smooth and uninterrupted flow of data. Versalift supports several major telecommunications providers in the United States, including Colorado, with fleet equipment. One of the most popular Versalift telecomm units is the Vantel-29, which has the lightest weight and the greatest payload capacity in its industry peer group.
Telecommunications Providers in Colorada
View Lifts
Colorado
With a population of approximately five and half million people, the state of Colorado is growing rapidly. A diverse economy powered by mineral extraction, tourism, technology, scientific research, manufacturing, services and agriculture. Three notable cities in Colorado include Denver, Colorado Springs and Aurora. Denver is a booming economic hub just outside the Rocky Mountains. With 300 days of sunshine each year, Denver is famous for its active population, and has seven professional sports teams and a professional rodeo. Colorado Springs is located at the base of Pike's Peak, and has an economy that is driven predominantly by the military, the high technology industry, spaced research and tourism.
Aurora is located next to Denver, and, like Colorado Springs, has an economy powered by the military and technology, and features more than 100 city parks that cover more than 6,000 acres of public space.
Notes on Aerial Lift Safety from the United States Department of Labor
Colorado Aerial Lift Safety
Colorado Aerial Lift Safety is strictly enforced through the state, and is taken very seriously. The state of Colorado has issued its own rules on aerial lift safety, and they can be found here (https://www.sos.state.co.us/CCR/GenerateRulePdf.do?ruleVersionId=718). Many states defer to the United States Department of Labor's OSHA rules, as they can provide additional clarity.
Aerial Lifts and their applications for Forestry in Colorado
Aerial lifts that are purposed for forestry have a special role in Colorado. Forestry requires bucket trucks that are especially durable and tough, as the landscape is incredibly rugged.  Parks Services and State and Federal Land Management organizations, as well as telecommunications and electric power distribution companies, use vehicle-mounted aerial lifts for the purpose of vegetation management, forestry and tree care. The Colorado State Forest Service provides additional information on ongoing forestry efforts in Colorado.  https://csfs.colostate.edu/
Aerial lifts for Bridge Inspection in Colorado
Bridge inspection equipment is as important in Colorado as it is anywhere else in the country. With more than 8,600 bridges in its care, the Colorado Department of Transportation has to inspect each bridge at least every two years and provide an update to the Federal Department of Transportation. An effort this size requires using specialized engineering companies and outsourced bridge inspection companies. Bridge inspection jobs require the kind of equipment that only Aspen Aerials can deliver. To learn about the world's most innovative bridge inspection equipment, please visit https://aspenaerials.com