Aerial Lifts in Maine
Aerial lifts Support Key Maine Industries
Aerial lifts are crucial to the transportation infrastructure, electric power overhead systems, telecommunications networks, and public land management efforts in Maine. The millions of people who spend their lives in Maine have plenty of options when it comes to who can supply their homes and businesses with electric power and internet service. Predominantly, aerial lifts are owned by utility organizations and telecommunications providers, because the complex systems that power our homes and businesses are at least twenty five feet in the air. Maine isn't especially dense as a state, but it does have some dense areas which require special equipment. Aerial lifts in Maine have various applications, but the most important applications are keeping the power flowing, the data flowing, and the roadways safely lit and maintained.
Electric Power and Utility Industry in Maine
Aerial lifts that support electric utility infrastructure in Maine face many of the issues that they would face anywhere else. Normal challenges include the need to protect the lineman from injury at all cost. Maine's climate can create specific challenges to equipment. Climate-specific challenges occur almost everywhere, however.
Nearly 90% of Maine is forested, and wood products, including biomass fuels, are an important part of the state's rural economy. Interestingly, 22% of the state's energy generation comes from biomass. While renewables produce three fourths of Maine's net electricity generation, most homes are heated with fuel oil, which is the largest share of any state.
Aerial lifts support the work of all of the electric utility companies in Maine. Some major electric utility providers are:
View Lifts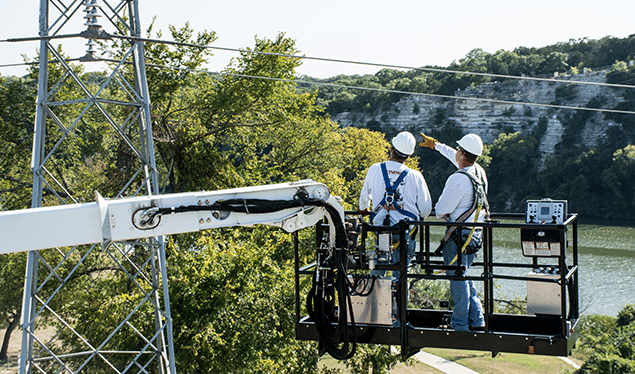 Telecommunications Construction & Maintenance in Maine
Aerial lifts for telecommunications fleets need to be highly versatile vehicles with lightweight components. Any organization that provides telecommunications services in Maine needs to consider how they will safely and securely convey their payload of merchandise, equipment and materials, while accounting for working height, platform capacity, and other factors. Telecommunications fleets often require a range of equipment, including cable placer trucks and higher-reach, insulated units. Versatility allows fleets to get a lot more work accomplished. Maine's Telecommunications & CATV companies are highly competitive, with a few players dominating the market. Below is a list of several telecommunications providers operating in Maine:
View Lifts
Bucket Trucks and their applications for Forestry in Maine
Forestry bucket trucks that are built to conduct forestry and logging tasks have to be durable because the work is tough and it is often out in more rugged environments. Forestry aerial lifts in Maine play several roles in the state, as more than 90 percent of Maine is forested.
Maine Forest Service (MFS) works to protect the state's forests from wildfires, water erosion and insect disease. The group assists the public and landowners with education and updates on timber and forest related issues. Tree care aerial lifts by Versalift are built to spec and delivered with the safest and most reliable aerial lifts available on the market.
Aerial lifts for Bridge Inspection in Maine
Bridge inspection equipment in Maine represents a significant ongoing effort. There are 2,419 bridges in Maine, and each one must be inspected and reported upon by Maine's state Department of Transportation. As a result, MDOT must inspect each bridge every other year. Bridge inspection is most commonly outsourced to bridge engineering firms or contractors that are licensed to perform bridge inspections in Maine.
Maine bridges can be beautiful. For example, Penobscot Narrows Bridge and Observatory is the highest bridge in Maine. The cable-stayed bridge is 2120 feet long and connects Verona Island to Prospect. The 420 ft tall observatory is the tallest occupied structure in Maine.
Aspen Aerials is the market leading manufacturer of bridge inspection equipment. Learn more at https://aspenaerials.com.
Maine
With a population of 1.3 million people, Maine is the 9th least populous state in the USA. It's also relatively small in size. It is, however, one of the most beautiful and scenic states in the country. The state capital is Augusta, one of three major cities in the state. While tourist attractions are often along the coast, some of the most beautiful parts of Maine are in the Central Uplands and Appalachian Mountains. Augusta is notable for how small it is. With only 20,000 people living in it, it is one of the least populous state capitals in the country. Portland is much larger, with a MSA of more than a half million. Portland hosts several universities, and has a very active seaport. Bangor was founded on lumber and shipbuilding in the 1800s. Bangor boasts three universities, and an air national guard base.
Notes on Aerial Lift Safety from the United States Department of Labor
Maine Aerial Lift Safety
Maine Aerial Lift Safety is highly visible due to population density and the number of roads in the state. All safety codes are strictly enforced throughout the state, and are written to be in alignment with the United States Department of Labor's OSHA regulations on Aerial Lift Safety.
You can find the OSHA Aerial lift factsheet here.