Aerial lifts built for the telecommunications industry are vital in the construction, expansion and maintenance of overhead telecommunication networks. New initiatives to install 5G antennas and upgrade and improve the larger wired network have boosted demand for vehicle mounted aerial lifts. Designed with telecommunications technicians in mind, Versalift van-mounted and truck-mounted aerial lifts are smart choices for telecommunication fleets. Our dedicated 5G unit saves time, capital expense and upkeep expense by being highly maneuverable and compact, while eliminating the need for a splicing trailer.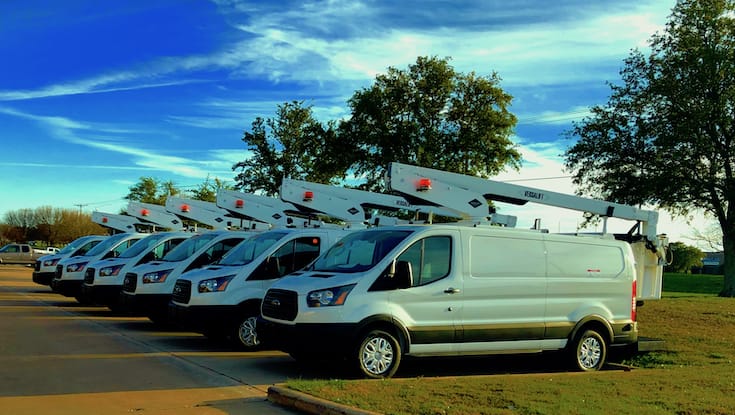 Aerial Lifts Support Telecommunications Fleets
Time Manufacturing Company provides unique access equipment to some of the largest telecom service providers and infrastructure development partners in the world. Versalift aerial lifts can be mounted onto a variety of chassis to meet the specific demands of the job. Normally featuring a non-insulated aerial device, Versalift aerial lifts for telecommunications work can be configured to fleet spec. Options include end-mounted or side-mounted buckets, and jib and winch placement.
Digger Derricks & Cable Units Built For Telecommunications Construction
Versalift aerial lifts, digger derricks and cable placers  are used to build and maintain telecommunications infrastructure can be found on the Versalift Telecommunications Equipment page. Two of our most popular smaller telecommunications units are the Tel-29 and Vantel-29. Cable placer units, including the Versalift STP-36 medium cable placer and Versalift VTP-40 heavy cable placer are important specialized equipment utilized by telecommunications fleets. The teams that are responsible for network construction and repair often rely upon digger derricks to dig holes and set poles and guy wires. Explore a broad range of Versalift TMD digger derricks here.
Versalift Aerials for Telecommunications
TEL-29-NE – Bucket Truck – 29 ft. Non-Insulated End Mount Telescopic
SST-36-NE – Bucket Truck – 36' Non-insulated with articulated telescopic aerial
STP-36-NE – Cable Placer – 36′ Medium duty (non-insulated)
VTP-40-NE – Cable Placer – 40′ Heavy duty (non-insulated)
VANTEL-29-NE – Van-mounted aerial – 29' Non-Insulated End Mount
Aerial Lifts Upfitted for 5G Work
Aerial lifts designed for the demands of the telecommunications industry must be efficient, maneuverable and lightweight. This is especially true for the Versalift units specifically designed for 5G support. Versalift 5G units have a custom-designed body enclosure with internal cable splicing unit for a comfortable workspace in extreme temperatures. With a 9,500 GVWR, the Versalift 5G unit has a taller aerial lift pedestal and more spacious body enclosure. Technicians benefit from an additional 2 feet of horizontal reach and easier bucket access due to a fixed, drop down fly-boom. These 5G cable splicer units have electric/hydraulic controls.
The Internet For All Initiative
The 2022 Infrastructure Act's Internet For All initiative is moving forward with the momentum to connect everyone in America to high-speed Internet service. The past year saw successful strategic planning, communication and fund-allocations in order to have the human resources in place to implement the initiative. The United States Department of Commerce is planning improvements for the internetforall.gov website, budget allocations for BEAD (Broadband Equity, Access, and Deployment) projects, review of state and territory 5-year plans and grants. The United States Department of Commerce will also be awarding funds through our Tribal Broadband Connectivity and Middle Mile grant programs.
Aerial Lift Service and Sales are Available Through Versalift Distributors
Aerial lifts are available for purchase through Versalift distributors across North America and around the world. Versalift distributors have the advantage of delivering a lower true cost of ownership to contractors and fleet organizations due to smarter, more reliably designed equipment. The reliability of Versalift equipment is borne out by our industry leadership in both warranty rates and product recall rates. Versalift distributors are an excellent resource to buy, lease, troubleshoot, service and test Versalift equipment and other premium brands of truck equipment.