Aerial lifts in New Mexico
Versalift Aerial Lifts Support homes and businesses across New Mexico
Aerial lifts support the basic function of electric power and telecommunications in New Mexico. Other important applications for aerial lifts in New Mexico include telecommunications, land management, traffic signal and signage maintenance and wind turbine blade maintenance. New Mexico state and municipal transportation departments require the use of aerial lifts in the maintenance of roadway lighting and signage, as well as the daily management of traffic signals. The geography and climate of New Mexico offers a unique challenge to those aerial lifts that are used to support the state's businesses, families and infrastructure.
Distributors for New Mexico
Electric Power and Utility Industry in New Mexico
New Mexico is the fifth largest oil producing state in the USA. Despite its mineral wealth, fourteen percent of New Mexico's energy generation comes from wind, which is generating approximately one thousand five hundred megawatts from one thousand wind turbines. Because aerial lifts are used by Rural Electric Cooperatives, Municipal Utility Organizations and Investor Owned Utility Companies, they are essential to the flow of electricity to homes and businesses across the state. Aerial lifts support New Mexico electric utility providers because they enable linemen to work at maintaining the electric power distribution network. 
Below is a short list of some organizations that provide electric power to consumers in New Mexico:
View Lifts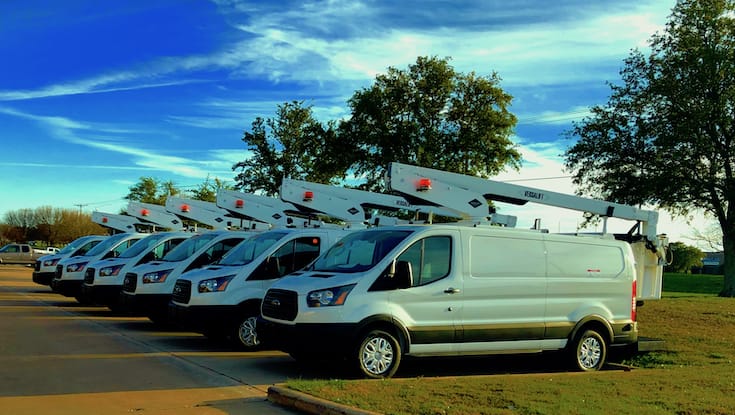 Telecommunications Construction & Maintenance in New Mexico
Aerial lifts that are built by Versalift for telecommunications fleets and contractors in New Mexico can provide a lower true cost of ownership. In New Mexico, broadband internet, land telephone lines and cable television are supported through overhead networks of coaxial and fiber optic cable. In order to have the tools and amenities they need, businesses and homes need consistent and inexpensive access to data services. In New Mexico,  Versalift van-mounted aerial lifts deliver the lightest weight vehicles with the greatest payload in their peer group, while providing a 29' working height to ensure that technicians can safely reach their elevated workplace and perform their work. In the span of eight years, New Mexico has increased its population's wired connection use from 72% to 90%. 
Below is a short list of some telecommunications providers in New Mexico: 
View Lifts
Aerial Lifts and their applications for Forestry in New Mexico
Aerial lifts support public and private forestry efforts across New Mexico. Because is has such a unique and rare habitats, New Mexico has more than one hundred plant species that do not grow anywhere else in the world.  The New Mexico State Forestry Department controls and manages all aspects of natural resources in the state to primarily ensure safety for both natural habitats and visitors.
Smokey the Bear, the national face of fire prevention, originated in New Mexico in 1950 after a forest fire burned a large forest in the Capitan Mountains. New Mexico has huge areas of forested land. In fact, more than 24 million acres are forested in the state. Of that amount, less than five million acres are purposed for timber and other forest products.
Please visit our forestry equipment page at Versalift Forestry equipment.
Aerial lifts for Bridge Inspection
Aerial lifts for bridge inspection are an important aspect of public safety in New Mexico. There are nearly 4,000 bridges in the state, and each one is required by federal law to be inspected every other year. In order to accomplish this work, it is a common practice for the state to hire bridge inspection engineers or contractors who are licensed for bridge inspection in New Mexico.
North America's leader in bridge inspection equipment can be found at https://aspenaerials.com.
New Mexico General Information
With a Population of more than two million people, New Mexico is home to some of the most unique and beautiful countryside in the country. The largest cities in New Mexico are Albuquerque, Santa Fe and Las Cruces. Santa Fe is the state capital, and is actually the oldest state capital in the country, being founded in 1610 by Spanish explorers. Albuquerque is the largest city in New Mexico and home to Kirkland Air Force Base, several national laboratories and research institutes, universities and technology companies, making it an economic driver for the state. Las Cruces is home to New Mexico State University and several research laboratories, and is surrounded by picturesque mountain ranges. Tourist attractions include the White Sands National Monument, Albuquerque International Balloon Fiesta and the Taos Ski Valley. The Carlsbad Caverns National Park and Bandelier National Monument attract visitors from around the world every year.
New Mexico Aerial Lift Safety
New Mexico Aerial Lift Safety is highly visible due to population density and the number of roads in the state. All safety codes are strictly enforced throughout the state, and are written to be in alignment with the United States Department of Labor's OSHA regulations on Aerial Lift Safety.
You can find the OSHA Aerial lift factsheet here.